Chicago Board of Trade Market News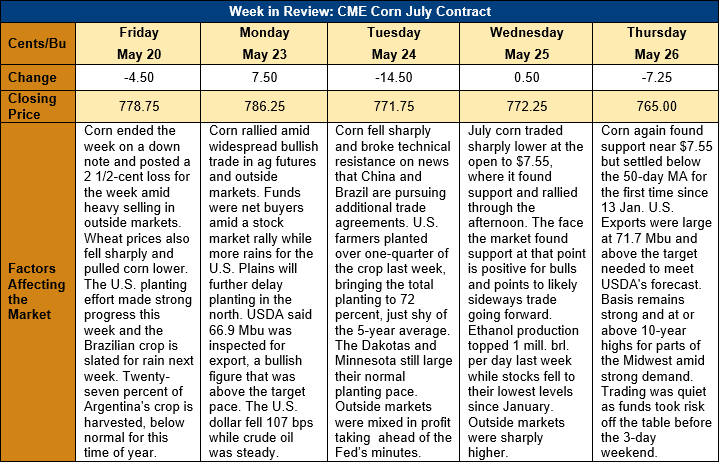 Outlook: July corn futures are 13 ¾ cents (1.8 percent) lower this week as traders took risk off the table heading into the U.S. Memorial Day weekend. Fundamentally, a significant increase in the U.S. planting pace gave a more reassuring outlook for the U.S. 2022 crop while rumors of possible Ukrainian exports from the Black Sea helped pushed markets lower. Additionally, rains forecast for southern Brazil and Paraguay offered a bearish influence as the precipitation will offer a late boost to corn yields.
U.S. farmers took advantage of the recent improvement in the weather and planted 23 percent of the crop last week. The 2022 corn crop is now 72 percent seeded, just shy of the five-year average pace (that includes the delayed planting of 2019) of 79 percent. Planting issues still linger in the northern Plains with just 20 percent of North Dakota's crop seeded, 38 percent behind normal. Minnesota's corn is 60 percent planted, 24 percent behind the  normal pace, while South Dakota's crop is 62 percent planted, just 5 percent below average.
After weeks of dry weather with hot temperatures that shifted to frost risks in the past two weeks, the Brazilian safrinha corn crop is finally slated for heavy rain over the next two weeks. Rains will fall across southern Brazil and Uruguay and offer a modest boost to yields. Crops in central Brazil, including Mato Grosso, remain drought stressed and under a dry forecast for the next few weeks.
The weekly U.S. Export Sales report featured 151 KMT of net corn sales and 1.82 MMT of exports. The export figure was up 32 percent from last week but put YTD exports at 44.7 MMT, down 9 percent. YTD corn export bookings (exports plus unshipped sales) are down 14 percent at 59.05  MMT.
U.S. cash basis level are averaging just 5 cents below July futures, the strongest basis in 10 years and a sign of relentless commercial demand. U.S. Midwest corn prices are averaging $302.20/MT ($7.68/bushel) this week, down fractionally from last week but up 14 percent this this time last year. U.S. ethanol margins remain strong and rising fuel prices, which is pulling additional corn into the ethanol grind. At the same time, U.S. exports remain strong, increasing the competition to secure physical corn.
From a technical standpoint, July corn futures are easing lower in an apparent effort to test support at $7.50 and the long-term supporting trendline at $7.35. Funds have been modest net sellers this week ahead of the U.S. three-day weekend but still hold a significant long position in corn. Seasonally, corn futures tend to rally in mid-June and July as the U.S. and other Northern Hemisphere crops enter peak pollination. Given this seasonal pattern, it is likely that funds and end users will use the current break to extend coverage and add to existing long positions. The fact that basis has remained firm on the recent break points to the underlying commercial demand that will likely offer strong support to corn heading into summer.