Chicago Board of Trade Market News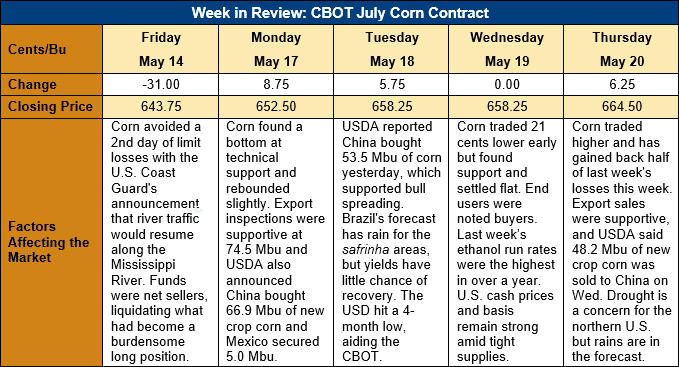 Outlook: July corn futures are 20 ¾ cents (3.2 percent) higher this week, recovering roughly half of last week's losses. The market seemed to find a trading range floor on Monday and has firmed since then. Bear spreading was popular towards the week's end as traders bid new crop futures higher in light of strong export sales for the fall.
Last Friday, the U.S. Coast Guard reopened navigation along the U.S. Mississippi River near Memphis, Tennessee just a day and a half after it stopped all river traffic. The stoppage was due to a crack in a bridge that was subsequently deemed stable enough to allow both road and river traffic to resume. The temporary stoppage pressured futures markets last week but has made little discernible impact on grain logistics or exports.
Brazil's weather forecast has shifted to favor rains for the southern and central portions of the country, which will likely help stabilize the safrinha crop's yields. Private analysts are projecting the total Brazilian crop still below USDA's latest forecast (102 MMT) but have largely kept estimates steady this week with the wetter forecast. The reduction of the Brazilian second corn crop has bolstered U.S. export prospects for both the old and new crops.
China has returned to the world corn markets to secure new crop supplies, most of which have been booked from the U.S. so far. USDA data shows China's known new crop purchases total 10.74 MMT (422.9 Mbu), which totals nearly 40 percent of the country's expected 2021/22 imports. Total U.S. new crop export sales bookings stand at 14.7 MMT (578.9 Mbu), up sharply from what was booked by this time last year.
Farmers are seeding the 2021 U.S. corn crop at the fastest pace in at least 5 years with 80 percent of the crop already planted. Weather and soil conditions have been favorable across the Midwest and the weather forecast calls for beneficial showers across the Northern Plains, Delta, and parts of the Upper Midwest this week. The Dakotas and areas in the Northern Plains/Western Corn Belt are in various stages of drought, but the forecast rains should offer relief.
From a technical standpoint, July corn futures seem to be stabilizing after last week's precipitous drop. The market found a near-term bottom on Monday at $6.33 and has steadily traded higher since then. Breaks continue to find end user buying interest and short covering, both of which are helping the market maintain a firmer tone. The July contract is likely forming a wide trading range from $6.33-7.00 with initial resistance at the 20-day moving average ($6.77). Cash basis levels remain strong as commercials are searching for supplies, and that will help support futures.