Chicago Board of Trade Market News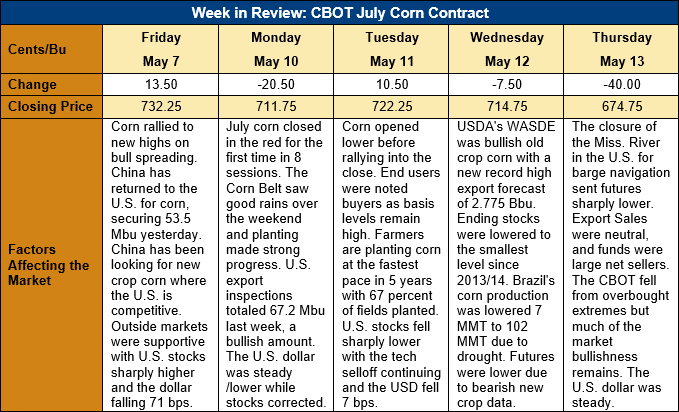 Outlook: July corn futures are 57 ½ cents (7.9 percent) lower this week after rallying to new highs before Wednesday's WASDE report. The WASDE was slightly bullish old crop corn futures and bearish new crop futures, the net effect of which prompted fund selling and position liquidation. Wednesday night's news that river traffic along the Mississippi River will be disrupted is causing concerns about old crop exports, which pushed July futures limit-down on Thursday.
Late Wednesday, the U.S. Coast Guard reported a crack on the Interstate-40 bridge near Memphis, Tennessee and halted vessel traffic in that section of the Mississippi River. There are over 400 barges delayed because of the closure, including 16 vessels with 254 barges that were southbound on the river. The Coast Guard has not said when that section of the river will reopen for vessel traffic. A protracted closure could impact U.S. grain exports, though the industry is already working on contingency plans.
The May WASDE offered both bulls and bears fuel for the respective positions. The USDA made few changes to the U.S. old crop (2020/21) corn balance sheet, increasing exports and cutting food, seed and industrial (FSI) use. USDA increased its forecast of U.S. corn exports by 2.54 MMT (100 Mbu) to  70.49 MMT (2.775 billion bushels, or Bbu). USDA cut U.S. food, seed, and industrial use by a modest 127,000 MT (5 Mbu) but left the ethanol corn use forecast unchanged. In total, USDA increased its use forecast by 2.41 MMT (95 Mbu), which pared ending stocks to 31.93 MMT (1.257 Bbu). The ending stocks figure was in-line with analysts' pre-report expectations and put the ending stocks-to-use (ESU) forecast at 8.5% – the smallest since 2013/14.
One of the biggest surprises in the May WASDE was USDA's significant reduction in the 2020/21 Brazilian corn crop. Due to drought, the agency lowered its forecast of the Brazilian corn crop by 7 MMT to 102 MMT, which was more than analysts were expecting. USDA increased Brazil's old-crop imports by 2 MMT and lowered its export forecast by 4 MMT. In total, Brazilian old crop ending stocks were lowered 1 MMT to 5.23 MMT.
Looking forward to the 2021/22 crop, there were few surprises the supply-side of the U.S. corn balance sheet. USDA adopted the planted acreage forecast from its March Prospective Plantings report and a trendline yield forecast of 11.27 MT/ha (179.5 bushels/acre). Those statistics, and the resulting 380.995-MMT (14.99 Bbu) production forecast, were largely expected by the industry.
USDA featured more surprises on the demand side of the U.S. balance sheet. The agency increased the ethanol use forecast by 5.715 MMT (225 Mbu) to 132.09 MMT (5.2 Bbu) as the economic recovery is expected to increase ethanol consumption.  More interestingly, USDA forecast a reduction in U.S. corn exports for the 2021/22 marketing year as larger crops from Ukraine and Russia will cut into the U.S. program. USDA said smaller crops in Argentina and Brazil will favor U.S. exports early in the coming marketing year, however. USDA left China's 2021/22 corn import forecast unchanged from 2020/21 at 26 MMT. Some analysts, however, think China's dwindling corn stocks and commitment to ending the feeding of food waste to its hog herd imply upside potential for China's imports.
In total, USDA expects 2021/22 U.S. ending stocks to total 38.23 MMT (1.507 Bbu), which will put the ESU ratio near 10.2%. USDA increased the farm price forecast to $5.70/bushel, up $1.35/bushel from 2020/21 when "much of the crop was marketed at lower prices", according to the agency.
Outside the U.S., USDA painted a picture of increasing global supplies with record high production. World production for 2021/22 was forecast at 1,189 MMT, up from 1,128 MMT produced in 2020/21. USDA expects production increases for the U.S., Brazil, Argentina, Ukraine, and China. World corn use was forecast 3 percent higher with the EU, Mexico, Japan, and Turkey forecast to import more. World ending stocks for 2021/22 were forecast at 292 MMT, up 8.7 MMT from 2020/21, putting the ESU ratio at 21.3%, up slightly from 2020/21.
From a technical standpoint, July corn futures appear to be in the middle of a correction from overbought extremes. The market's rally to new contract highs ahead of the May WASDE report, fueled by substantial fund buying, pushed July corn into deeply overbought territory. The July contract has not yet formed a reversal signal on the charts, which suggests the 2020/21 bull market isn't over yet. U.S. physical corn supplies remain tight and basis levels were at record highs heading into the WASDE. If the Mississippi River becomes fully navigable again soon, USDA's new export forecast implies the market will have rally potential left. There is a saying that "bull markets always let you in", and the CBOT may have provided a solid entry point.