Chicago Board of Trade Market News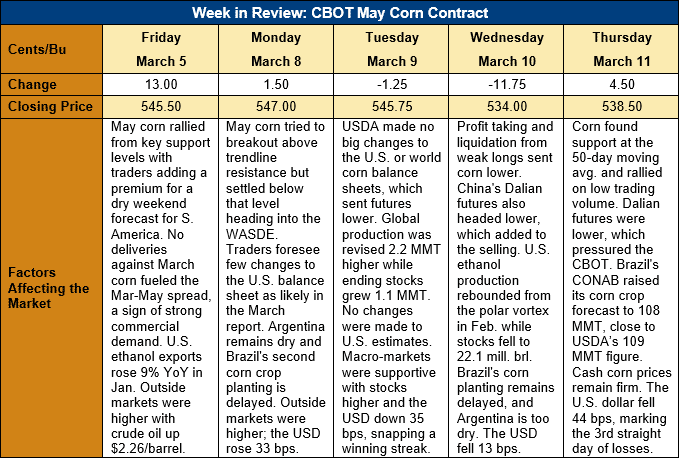 Outlook: May corn futures are 7 cents (1.3 percent) lower this week as mild fund liquidation began following a neutral March WASDE report. The USDA made no changes to the U.S. corn, soybean, or wheat balance sheets and made only minor adjustments to global estimates. The lack of bullish input prompted funds and weak long to liquidate some of their position, pushing the futures market into technical support. Looking forward, the market will now start preparing for the March Prospective Plantings report from USDA, which will be released at the end of the month. The report will offer USDA's most accurate pre-planting acreage forecast that will be influential for guiding deferred futures contracts.
The March WASDE saw USDA leave the U.S. corn balance sheet unchanged but increase corn production for India, South Africa and Bangladesh. The agency lowered its forecast of Mexico's 2020/21 production, which pared global increases. Despite difficult weather conditions for both Argentina's early- and late-planted corn crops, USDA left the country's 2020/21 production unchanged at 47.5 MMT. Similarly, the agency kept its forecast of Brazil's corn crop unchanged at 109 MMT, despite the fact nearly one-quarter of the safrinha (second crop) corn has missed it planting window. USDA will likely make any necessary adjustments to South American production in the April WASDE. In total, global production was revised 2.26 MMT higher to 1,136.3 MMT with global ending stocks pegged 1.1 MMT higher at 287.7 MMT.
The weekly Export Sales report saw international buyers book 395,500 MT of net export sales, up 241 percent from the prior week while exports dipped 21 percent from last week's marketing-year high. Exports totaled 1.59 MMT, putting YTD shipments to 27.7 MMT (up 82 percent) while YTD bookings (exports plus unshipped sales) now total 59.519 MMT (up 112 percent). YTD bookings now account for 90 percent of USDA's 66.04-MMT (2.60 billion bushel) 2020/21 export forecast.
U.S. cash prices remain mostly steady despite slightly weaker futures values. U.S. cash values averaged $205.45/MT ($5.22/bushel) this week while basis narrowed 1 cent to 12 cents under May futures. Barge CIF NOLA values are essentially steady this week while FOB Gulf offers have ticked higher to $246.25/MT.
From a technical standpoint, May futures attempted an upside breakout above trendline resistance on Monday before the WASDE. The rally failed, however, and that combined with a general lack of news in the March WASDE left the market to grind lower. The 50-day moving average emerged as a technical support point Wednesday and Thursday, which has kept the market from testing major  support at $5.23 ¼ (the 11 February daily low). Given weather concerns in Argentina and planting delays in Brazil, combined with the 15 March increase in CBOT position limits, a prolonged selloff seems unlikely heading into the March plantings report. Rather, the corn market is apt to continue bouncing sideways with initial support at the 50-day moving average ($5.30 ¼) and major support at $5.23 ¼. Resistance lies at $5.46 ¼ and $5.56 ¼ above that.