U.S. Weather/Crop Progress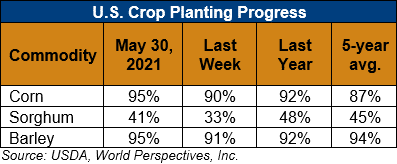 U.S. Drought Monitor Weather Forecast: Over the next 5-7 days, it is anticipated that much of the West as well as the central Plains will remain dry. The southern Plains and portions of the Carolinas are expected to see the most rain. Warmer than normal conditions are supposed to dominate the West and into the northern Plains, with departures of 12-15 degrees above normal in portions of California and Nevada. Cooler than normal temperatures are expected over the southern Plains and South in response to the anticipated rain.
The 6-10-day outlooks show the majority of the country has above normal chances of recording temperatures above normal during the period with the northern Plains, upper Midwest, and into the Northeast having the greatest likelihood. Cooler than normal temperatures are expected over Alaska, the West Coast, and into the southern Plains. It is anticipated that dry conditions will continue to dominate the Plains and West with the highest likelihood over the Great Basin. The greatest odds of above normal precipitation will be along the Mississippi Valley and into the southern Plains.
Follow this link to view current U.S. and international weather patterns and future outlook: Weather and Crop Bulletin.