Chicago Board of Trade Market News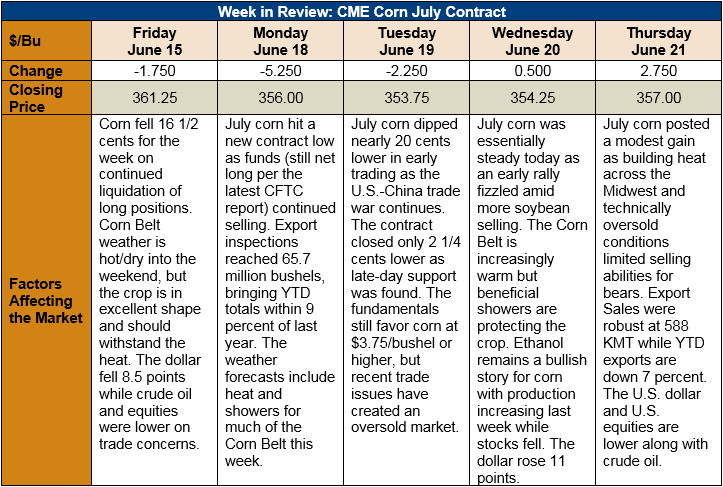 Outlook: July corn futures are down 2 percent from last Thursday, having recovered from Tuesday's selling spree. Early trading on Tuesday pushed the contract nearly 20 cents lower and to new contract lows before commercial buying pulled the contract back to only modest losses. The prevailing sentiment this week has been that of trade and geopolitical worries, combined with the U.S. crop's amazingly good condition. These two factors have largely overwhelmed the growing fundamental case for higher corn prices.
Demand for U.S. corn remains robust with weekly export sales reaching 588,000 MT this week and exports of 1.763 MMT. YTD corn bookings (unshipped sales plus exports) are up 2 percent from last year while YTD exports lag last year's pace. There is a growing probability that 2017/18 corn exports may exceed USDA's projections. Similarly, last week's ethanol production was up 7.5 percent year-over-year and decreasing ethanol stocks signal continued solid corn demand from the biofuels sector.
The U.S. corn crop, despite facing early heat, is in excellent condition. Timely rains across the Corn Belt have kept 78 percent of the crop rated good/excellent, up from a five-year average of 71 percent. The U.S. weather forecast features above-normal temperatures from the Plains states to the East Coast while the Corn Belt and Upper Midwest will receive above-normal precipitation. The corn crop is off to a great start and there is nothing in the long-term forecasts to cause worry at this time.
Brazil's second-crop corn harvest is progressing well thanks to good weather in that country. The ongoing freight dispute is causing issues for grain movement that will likely linger for months. Reports from the Port of Santos suggest a 22 percent decrease in the flow of grain trucks to that port during early June.
Corn futures should stabilize this week and possibly turn higher next week. Funds are still stubbornly long the commodity and a lack of U.S. farmer selling is pulling cash/basis values higher. The contract, being sharply oversold, is ripe for a rebound higher, possibly to $3.75/bushel, which would be a 50 percent retracement of the late May/early June move lower.