Chicago Board of Trade Market News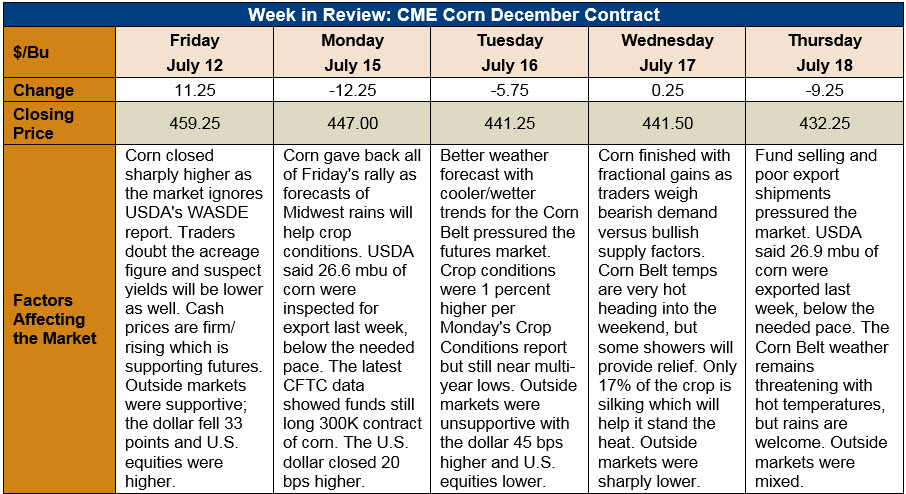 Outlook: December corn futures are 27 cents (5.9 percent) lower this week as moderate improvements in crop conditions alleviated some supply concerns. Fund selling was also notable as money managers took profits at relatively high prices. The fundamentals are still bullish, however, with estimates of 7-8 million acreage of prevented planting acreage and private firms lowering yield estimates. The market is now balancing old-crop demand (bearish) and new-crop supplies (bullish) with both sides looking for fresh information.
The weekly Export Sales report featured 293,000 MT of gross sales, 200,000 MT of net sales and shipments of 682,400 MT (all figures for the 2018/19 crop). YTD exports are down slightly (7 percent) while YTD bookings have slipped 16 percent due to recent slow sales. The report featured 51,900 MT of sorghum exports and 500 MT of barley shipments. Barley bookings are up 6 percent YTD.
On Monday, the USDA said 58 percent of the U.S. corn crop was rated in good or excellent condition with the figure increasing slightly from the prior week. The share of corn in good or excellent condition is below the five-year average of 71 percent. The weekend weather forecast for much of the Midwest features very hot temperatures but decent chances of rain. Only 17 percent of corn is silking presently, which means most of the corn will not be in the delicate reproductive stage when the heat hits. With the late planting, much of the corn will be pollinating in early August and weather forecasts so far show average temperatures and precipitation.
From a technical perspective, December corn futures are working towards the low end of their recent trading range ($4.20-4.65/bushel) as producer selling and fund profit taking accelerated. With futures jumping higher after last week's WASDE report, the high prices stimulated aggressive selling and profit taking. Now, futures are looking for support and end-user buying as they approach $4.20/bushel. That point is likely to hold major technical support, with the next support point below it at $4.11/bushel. Given that both bulls and bears are looking for fresh information, the market is likely to stay rangebound at least until the key pollination period is past.