Chicago Board of Trade Market News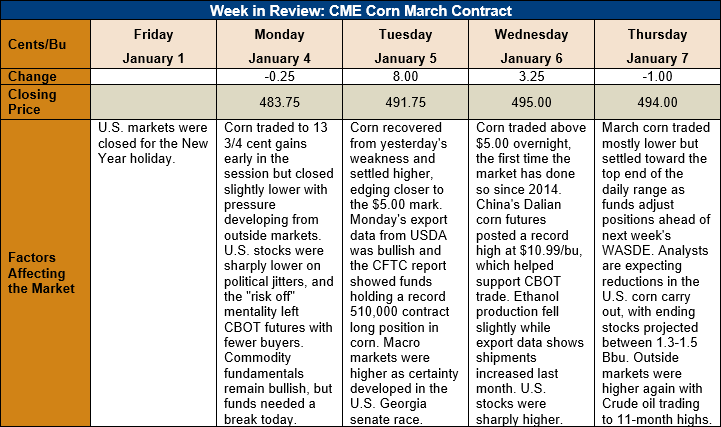 Outlook: March corn futures extended their rally this week, surging another 10 cents (2.1 percent) higher during the first week of the new year. Funds have been aggressive buyers, which has fueled a substantial portion of the rally. Beyond that, however, corn bulls can point to several fundamental factors to support ideas of higher prices, including strong export demand, poor weather in Argentina, and expectations of a tighter U.S. 2020/21 carry out in the coming January WASDE.
Despite the fact corn futures are 74 ¼ cents higher than they were just one month ago, there are few signs that demand is being rationed. USDA's weekly export sales report showed net sales falling from the prior week at 748,900 MT and exports declining to 1.027 MMT, but these reductions were expected due to the holidays. More important are the facts that YTD exports are up 72 percent at 15.256 MMT, accounting for 23 percent of USDA's 2020/21 forecast. Similarly, YTD bookings (exports plus unshipped sales) are up 137 percent at 43.944 MMT (65 percent of USDA's forecast). That U.S. exporters have booked over half UDSA's annual projection four months into the marketing year highlights the strength of international demand.
Argentina's weather remains dominated by the La Nina present in the Pacific Ocean, which is bringing warm, dry weather to the region. Most of the country's eastern and northern agricultural areas have suffered from drought this year, which has negatively impacted the corn and soybean crops. The forecast for the next two weeks shows above-average temperatures and next and near-average rainfall for the next 7 days. Due to the La Nina, however, precipitation forecasts have been consistently overly optimistic this year, leading to little confidence in the forecast. The warm, dry weather comes as much of the corn crop is in key yield-defining stages and private analysts are paring back yield and production estimates accordingly.
The U.S. corn balance sheet is expected to tighten further in next week's January WASDE report. Many analysts are expecting a modest reduction in the U.S. 2020 corn yield, as USDA has historically made downward revisions to yields in the January report when it has also reduced yield estimates from October to November. Combined with expected increases in China's import forecast, many analysts are expecting 2020/21 ending stocks to range from 33 – 38.1 MMT (1.3-1.5 billion bushels). Ending stocks below 38 MMT (1.5 billion bushels) will likely spark additional demand rationing through higher prices. The biggest question is how aggressive USDA will be in adjusting Argentine and Brazilian production estimates with crops in those countries still finalizing yields.
From a technical standpoint, March corn futures look to have turned sideways, at least temporarily, with resistance building at the $5.00 level. March futures briefly traded above $5.00 on Wednesday but could not hold gains above that level. The market is looking like it will settle into a sideways trading range from $4.87-$5.02 ahead of the January WASDE, with speculative funds already holding a large long position in the commodity. Major support for March corn lies at $4.80 with the 10-day moving average below that at $4.75. Any break in the market down to these levels is likely to attract significant end-user buying and export demand, especially with production issues in South America a possibility. The overall trend for corn remains higher with 2021 starting off featuring bull markets in multiple commodities.