Chicago Board of Trade Market News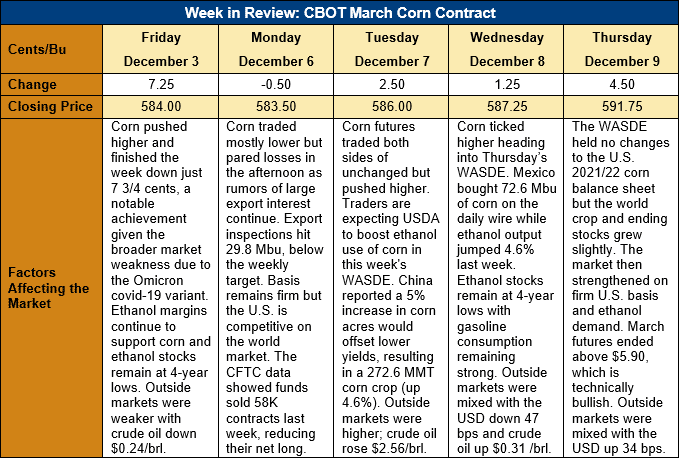 Outlook: March corn futures are 7 ¾ cents (1.3 percent) higher this week as strong basis and robust ethanol demand helped the market firm heading into Thursday's December WASDE. The USDA's report was, as analysts expected, natural corn, and the market traded both sides of unchanged after the report was released. Notably, however, the market strengthen heading into the close and posted a technically significant settlement above $5.90.
UDSA's December WASDE was neutral the corn market as the agency left its 2021/22 U.S. balance sheet unchanged from the November report. The USDA did, however, increase world corn production by 4 MMT due to larger crops in Europe and Ukraine (respectively estimated at 70.3 MMT and 40 MMT) that offset a 0.4-MMT decline in Chinese production. USDA increased its 2021/22 export forecast for the world, EU, and Ukraine and increased Brazil's old crop (2020/21) exports due to large shipments through November.
In total, larger 2021/22 global production and beginning stocks offset consumption increases and pushed world ending stocks 1.13 MMT higher than the November WASDE estimate. Despite larger ending stocks, the world ending stocks-to-use forecast is essentially unchanged at 22.1 percent, which is the smallest ratio since the 19.8 percent recorded in 2013/14.
The weekly USDA Export Sales report featured 1.132 MMT of net corn sales, which was 11 percent above the prior week's volume. Weekly exports declined 4 percent to 0.904 MMT but YTD exports now total 10.55 MMT (down 5 percent). Total corn export bookings (exports plus unshipped sales) now total 36.5 MMT, down 8 percent from last year. The weekly report also featured 0.315 MMT of sorghum net sales (up 11 percent from the prior week) and 400 MT of net barley sales.
One export trend to note is that U.S. white corn exports to Mexico have surged this year, rising 67 percent during the first nine months of 2021. January through September white corn exports to Mexico total 0.725 MMT, up from 0.433 MMT this time in 2020. The current export pace is nearly equal to that of 2016, when the U.S. exported 0.842 MMT of white corn to Mexico. What makes this year's exports especially notable, however, is that they have occurred while prices are approximately 65 percent higher than 2016.
Midwest basis continued to trend sideways at -10H (10 cents under March futures), steady with last week and slightly above the -11H recorded this time last year. Farm sales have been quiet in recent weeks as producers marketed large portions of the 2021/22 crop earlier this year and are now waiting for futures' seasonal grind higher. Barge CIF NOLA values and FOB NOLA offers for yellow corn are each up 1 percent this week as international demand is picking up with the U.S. among the most competitive origins on the world market.
March corn futures remain range-bound with support at $5.65 and resistance at $5.90 and $6.00. Despite large selloffs in equity and energy markets due to the Omicron Covid-19 variant, corn futures maintained much of their strength and are above their pre-selloff values. After the December WASDE was released, the market strengthened and pushed above resistance at $5.90 and triggered buy-stops at $5.91 before settling at $5.91 ¾. Thursday's close marks just the second time since 1 July that March futures have settled above the $5.90 mark, which is a bullish technical development. If the market can maintain this strength Friday and early next week, it suggests a test of the $6.00 level is likely.
Notably, there is just one full week of trading left in 2021 before the Christmas and New Year's holidays shorten their respective trading weeks. Consequently, trading volume is apt to be low during this period, which could result in choppy market conditions. Overall, however, the corn market's rejection of covid-19-related selling and a neutral WASDE suggest the seasonal grind higher should continue into 2022.