Chicago Board of Trade Market News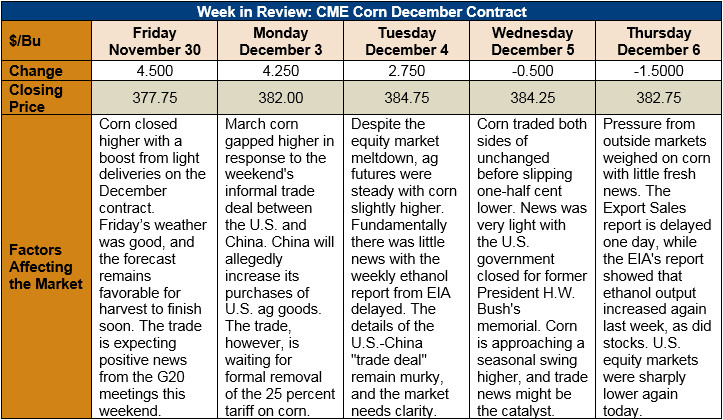 Outlook: March corn futures are up 9 ½ cents for the week (2.5 percent) as the markets have enjoyed some levity after last weekend's discussion between Presidents Trump and Xi. While those discussions are still evolving, they gave traders sufficient optimism to lift corn and soybean futures from the bottom of their recent trading ranges. Corn futures are heading into their seasonal swing higher and several factors may drive or hinder this dynamic.
The USDA's weekly Export Sales report will be published tomorrow due to Wednesday's government closure for the memorial of former President George H.W. Bush. Monday's Export Inspections report, however, showed 1.035 MMT of inspections last week, enough to keep YTD inspections up 80 percent. Corn exports have been robust this year, but sales have slowed in recent weeks on the dollar's strength and increasing pressure from other global suppliers. Still, exports have been a bright spot in the U.S. corn balance sheet and should remain so for the rest of the marketing year.
The USDA will release the December WASDE report early next week and the trade expects few changes to the U.S. balance sheet. Exceptions to this are likely to be modest reductions in the U.S. average corn yield and harvested area. The December WASDE is typically a non-event for the markets but with the U.S. harvest so delayed this year, there could be more adjustments than usual. The world will also be closely watching the South American numbers as that region has experienced excellent planting/growing conditions so far this year.
From a technical standpoint, March futures are holding onto two important chart developments: moving average support and the 3 December gap higher. The former, the converging 40-, 50-, and 100-day moving averages at $3.79, is now major support with bears unable to push prices below this point since Monday. The latter, the 2 ¾-cent chart gap that formed on 3 December, is especially bullish given that the market has not traded far into the void, even with soybean futures nearly trading through the entirety of that market's chart gap. Funds are likely to be shown as net short in the next CFTC report and have pared back a substantial portion of their short position. Consequently, the outlook for corn futures is steady/higher with technical support, seasonal patterns, and funds' neutral position.