Chicago Board of Trade Market News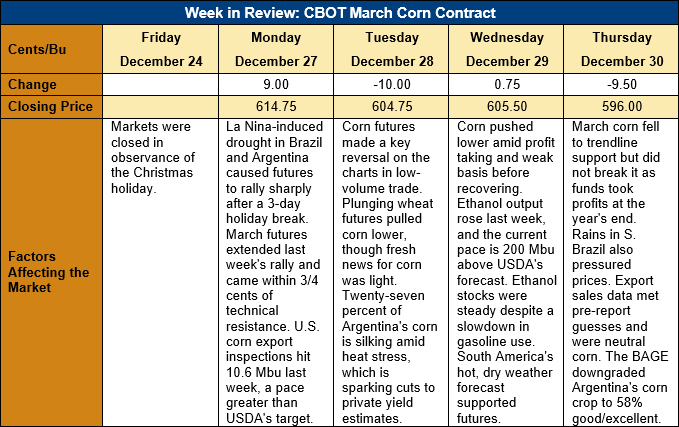 Outlook: March corn futures are 9 ¾ cents (1.6 percent) lower this week after rallying and then succumbing to end-of-year profit taking. On Tuesday, March futures posted a new rally high at $6.17 ¾ before they fell sharply. Weaker wheat markets, profit taking, and chances for rain in southern Brazil sparked the reversal and technical trade then accelerated the move. Thursday's trade also featured significant selling, with overnight rain in southern Brazil and additional profit taking justifying the day's move. Looking forward, however, corn futures have technical support below Thursday's low and the long-term weather outlook for Brazil and Argentina poses significant drought risk. This is likely to provide support and minimize any potential early-2022 weakness.
The weekly Export Sales report was in-line with pre-report expectations and supportive corn futures. Net sales were up 27 percent from the prior week at 1.246 MMT while exports were down 16 percent at 0.921 MMT. YTD bookings (exports plus unshipped sales) now total 40.740 MMT, down 6 percent. Export sales and shipments were sluggish early in the 2021/22 marketing year due to logistics issues following Hurricane Ida. Recent activity, however, has been strong and U.S. exports are increasingly on-pace to meet USDA's target.
Basis is steady across the Midwest this week with above-average ethanol margins (which USDA estimates at $2.45/bushel) continuing to support corn demand and prices. Basis this week averages -11H (eleven cents under March futures), which is steady with last week and above the -14H observed this time last year.
March corn futures formed a weak, technical reversal on Tuesday and have since followed through on that signal. The contract has trendline support at $5.91 ¾ as well as psychological support at $5.90. The low-volume nature of this week's selloff means it is more likely a minor correction than a major reversal, an outlook that would be confirmed if support near $5.90 continues to hold. This week's trade was largely driven by profit taking ahead of the New Year, which suggests the market will return to trading fundamentals next week. Those fundamentals – including dryness and heat stress in Argentina and southern Brazil, improving U.S. exports, and strong ethanol demand for corn – currently offer a bullish outlook for early 2022.