Chicago Board of Trade Market News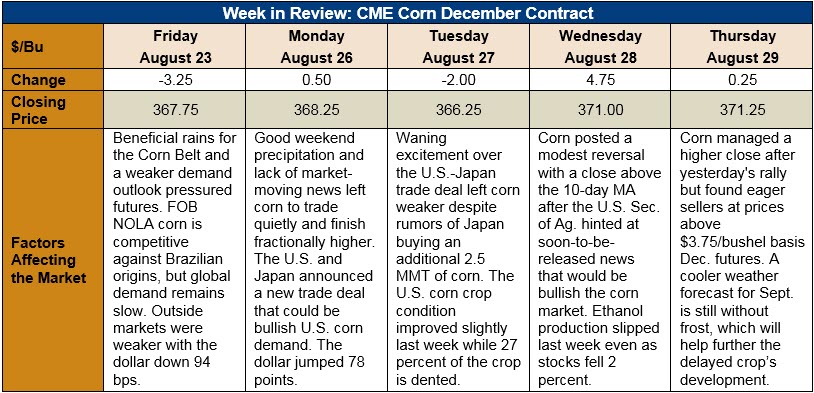 Outlook: December corn futures are up 3 ½ cents (1.0 percent) this week as the market traded largely sideways before Wednesday's and Thursday's rally. Fundamental news has been light, which has left the market uninspired. The weather remains broadly favorable for finishing the corn and soybean crops, except that the September weather forecast is turning slightly cooler than desired. Fortunately, there are no significant forecasts for frost/freeze across the Midwest, which is a development welcomed by farmers.
USDA's weekly Export Sales report featured net sales of -2,500 MT and exports of 611,200 MT. The export figure was up 13 percent from the prior week but still less than needed to keep pace with USDA's latest export forecast. YTD exports are down 13 percent while YTD bookings are off 17 percent. USDA also noted that 300 MT of sorghum and 1,000 MT of barley were exported last week.
On Monday, USDA said that 57 percent of the corn crop was in good/excellent shape with the statistic slightly higher than the prior week but still the lowest in decades. More important than the conditions, however, was the report that 71 percent of corn was in the dough stage and only 27 percent was dented. Both figures as behind their respective five-year averages of 87 and 46 percent.
U.S. cash prices are firmer across the Midwest this week with the average price moving 1 percent higher to $139.79/MT. Barge CIF NOLA and FOB NOLA corn prices are steady/higher this week with Gulf export offers at $162/MT, steady with the prior week and this time in 2018.
From a technical standpoint, December corn found support near the 13 May daily low and posted a notable reversal from there. The contract is now hovering around the 10-day moving average and seems to be gathering upside momentum. Funds are thought to hold a net short position of 80,000-90,000 contracts and any significant effort to cover that short could produce a modest rally. However, with global export competition remaining stiff and little bullish fundamental news, any rally is unlikely to be long-lasting unless there are other significant fundamental developments.