U.S. Weather/Crop Progress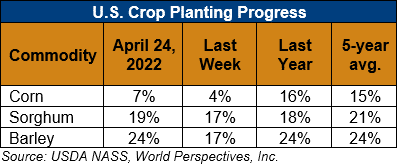 U.S. Drought Monitor Weather Forecast: The threat of frost and sub-freezing temperatures will linger at least into Friday in parts of the Great Lakes and Northeastern States. Meanwhile, a disorganized storm system will cross the western U.S. before intensifying on April 29-30 over the nation's mid-section. With the storm's path across the central Plains and upper Midwest, rainfall could reach 1 to 3 inches in the north-central U.S., with some of the highest amounts expected on Friday in the Dakotas. Meanwhile, windy, dry weather in the nation's southwestern quadrant will lead to additional drought and wildfire concerns. Late in the weekend, however, portions of the southern Plains may experience some drought relief.
The NWS 6- to 10-day outlook for May 3 – 7 calls for the likelihood of near- or below-normal temperatures across the North and Far West, while warmer-than-normal weather will prevail from the Four Corners States eastward to the middle and southern Atlantic Coast. Meanwhile, near- or above-normal precipitation across most of the country should contrast with drier-than-normal conditions in the upper Great Lakes region and parts of the Southwest.
Follow this link to view current U.S. and international weather patterns and future outlook: Weather and Crop Bulletin.