U.S. Weather/Crop Progress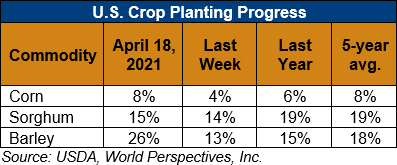 U.S. Drought Monitor Weather Forecast: A weather system moved across the Northeast as this USDM week ended and the new week began. During April 22-27, the western ridge will break down, allowing a couple weather systems to move across the CONUS. One will move across the South and Southeast at mid-week, while another moves into the West as the USDM week ends. Much of the CONUS is expected to receive 0.10-0.25 inch of precipitation, with 1.0-2.0 inches in the mountains of the Coastal, Cascade, and Sierra Nevada ranges and northern Rockies. But the heaviest precipitation will be from eastern Texas to South Carolina, and southeast Kansas to southern Illinois, where 1.0-3.0 inches is forecast to fall. An inch or more is expected across a broad area from eastern portions of Texas, Oklahoma, and Kansas, across the Ohio Valley, to the Mid-Atlantic coast; south to the Gulf of Mexico coast; and across New England. Temperatures are expected to be cooler than normal in the east as the Canadian air masses exit the CONUS, then moderate to near to warmer than normal CONUS-wide.
The outlook for April 28-May 1 warmer than normal in the East and cooler than normal in the Pacific Northwest. Odds favor wetter-than-normal conditions in the Pacific Northwest; along the Mississippi, Ohio, and Tennessee Valleys; and in the Great Lakes; with below-normal precipitation in most of the southern Plains. In Alaska, odds favor below-normal precipitation across the state except the panhandle, warmer-than-normal temperatures in the west, and cooler-than-normal temperatures in the east.
Follow this link to view current U.S. and international weather patterns and future outlook: Weather and Crop Bulletin.