U.S. Weather/Crop Progress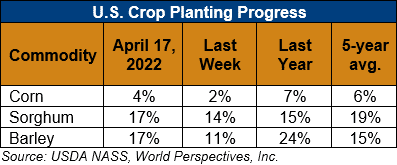 U.S. Drought Monitor Weather Forecast: A parade of Pacific storms will maintain unsettled weather across much of the country during the next several days. One of the most consequential storms will traverse the western U.S. on April 21-22 before intensifying over the northern and central Plains. The storm system will result in similar impacts to those observed last week, including wind-driven snow across northern sections of the Rockies and Plains (mostly on April 22-23); high winds, possible blowing dust, and an elevated wildfire threat over a multi-day period across portions of the central and southern Plains and the Southwest; and a multi-day risk of severe thunderstorms, especially during the weekend from the Plains into parts of the mid-South and Midwest. In contrast, negligible precipitation will fall during the next 5 days along the Gulf Coast, in the Atlantic Coast States, and across the Southwest.
The NWS 6- to 10-day outlook for April 26 – 30 calls for near- or below-normal temperatures across much of the country, with the greatest likelihood of cool conditions focused on the Great Lakes States. However, warmer-than-normal weather will prevail from southern California to the central and southern Great Plains. Meanwhile, near- or below-normal precipitation should be observed nationwide, except for wetter-than-normal conditions from the northern Cascades to western North Dakota.
Follow this link to view current U.S. and international weather patterns and future outlook: Weather and Crop Bulletin.