Chicago Board of Trade Market News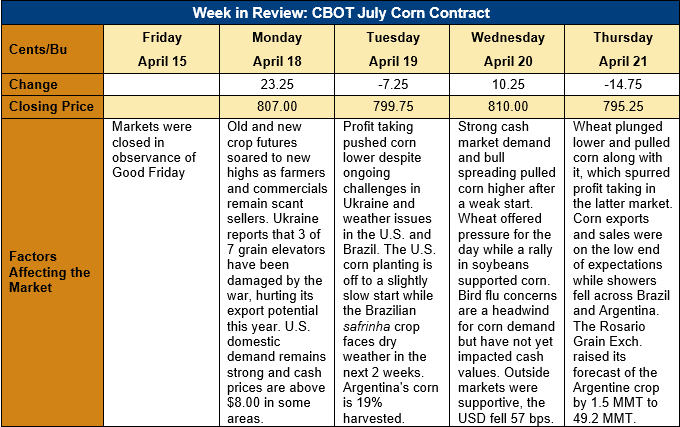 Outlook: July corn futures are 11 ½ cents (1.5 percent) higher this week and scored new highs in early trade as details on Ukraine's spring crop planting and macroeconomic factors remain supportive. Last week's conclusion of the index fund roll allowed grain spreads to normalize and firm trade this week indicates continued strong commercial demand.
World corn market dynamics remain mostly bullish with Ukraine's ministry of agriculture saying the country has only seeded 2.5 million hectares of spring crops. That figure is 20 percent of the expected crop area, which the ministry has forecast will be down 44 percent from 2021/22. Last year, Ukrainian farmers planted 5.4 million hectares of corn. While Ukraine's corn crop will fall sharply from 2021/22, Argentina's corn crop is increasing due to larger than expected yields. The Rosario Grain Exchange said the country will produce 49.2 MMT of corn this year, a figure 1.5 MMT above its prior estimate.
U.S. corn export sales and exports fell during the week ending 14 April, with exporters booking 0.879 MMT of net sales and shipping 1.196 MMT of exports. The net sales figure was down 34 percent while weekly shipments drooped 23 percent. YTD corn export bookings (exports plus unshipped sales) are down 16 percent at 56.648 MMT but account for 89.2 percent of UDSA's current forecast with 4.5 months left in the 2021/22 marketing year.
Corn and other commodity markets are continuing to benefit from the inflationary economic climate in the U.S. as investors use raw asset exposure as a hedge against inflation. Both managed money and index funds hold record large long positions in CBOT corn and other ag products currently and the investing trend is expected to continue alongside rising inflation nan interest rates. The U.S. Federal Reserve signaled Thursday that it will likely raise U.S. interest rates by a half-percent In its May meeting in effort to control rising inflation.
From a technical standpoint, July corn futures are overbought and profit taking over the past three days suggests the rally may be ending. Funds, as noted above, remain heavily long the market, however, which will likely continue to support values. Moreover, July corn has multiple technical support levels below Thursday's close, and recent bull spreading suggests commercial buyers will be active on breaks. Corn futures often decline seasonally in the spring as the U.S. crop gets planted, but equally as often there is a summer "weather scare" that creates a pronounced rally. Consequently, while futures may pullback slightly in the near-term, the long-term outlook remains bullish.