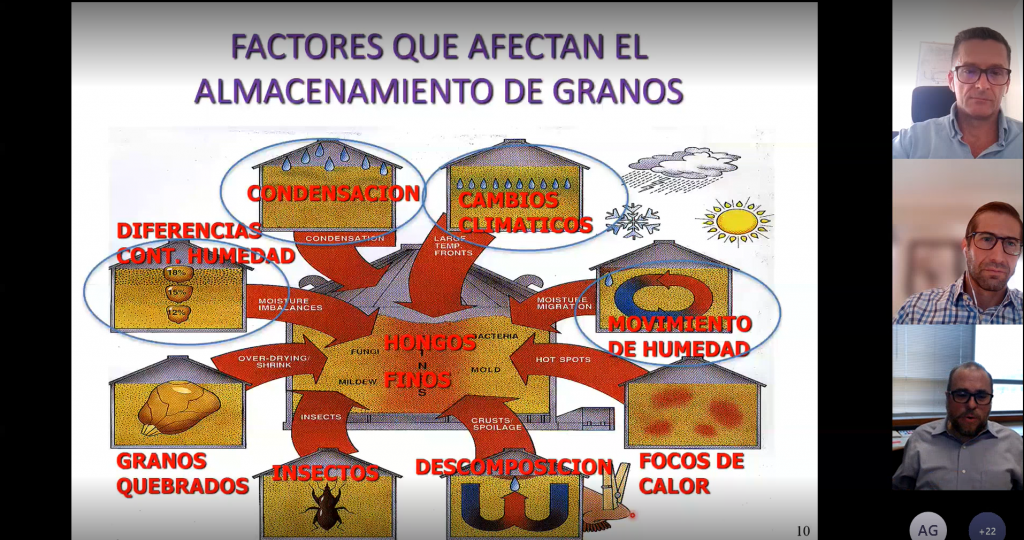 Last week, U.S. Grains Council (USGC) staff representing the Latin America (LTA) region conducted a virtual training, focused on grain handling and storage techniques for tropical climates, for a major corn and co-products importer in the region. The corporation has poultry integrations and produces commercial feed throughout Central America.
"CMI is one of the largest protein producers and top importers of agricultural raw materials to Central America. As the company seeks efficiencies in Costa Rica, it unified its wheat mill, feed mill operation and quality teams. The training objective was for the wheat milling division personnel to learn about corn and DDGS handling and storage in tropical weather. For the feed team, the training was a reminder of the importance of good practices to maintain corn and DDGS quality," said Alvaro Lopez, USGC LTA regional marketing specialist.
The training covered topics including conservation strategies for corn and distiller's dried grains with solubles (DDGS) storage in silos and flat storage; best practices for fumigation; chemical and biological products; pest control; and new technological innovations to prevent shrinkage and extend corn's storage time.
"The participants asked questions about grain sampling, fumigation and proper ventilation for the presentation. One of the comments that stood out was how Dr. Carlos Campabadal's training had a unique approach to grain handling as a business. This business approach stated the importance of implementing and following a process to avoid losses due to grain deterioration," Lopez said.
The Council's LTA team traveled to Costa Rica in December 2022 to meet with industry leaders. While there, they met with the operation manager for the feed plant and company leaders mentioned that their wheat and feed operations would be merging to optimize resources and expand their commercial footprint for raw materials regionally. As the company expands, the training will assist the feed plant staff as they prepare to handle additional volumes and increase the storage time of corn and DDGS.
Through educational opportunities like this, the Council hopes to strengthen its relationships with industry associations and regional and in-country professionals to increase industry growth, as well as build additional demand for U.S feed grains and co-products.
About The U.S. Grains Council
The U.S. Grains Council develops export markets for U.S. barley, corn, sorghum and related products including distiller's dried grains with solubles (DDGS) and ethanol. With full-time presence in 28 locations, the Council operates programs in more than 50 countries and the European Union. The Council believes exports are vital to global economic development and to U.S. agriculture's profitability. Detailed information about the Council and its programs is online at www.grains.org.