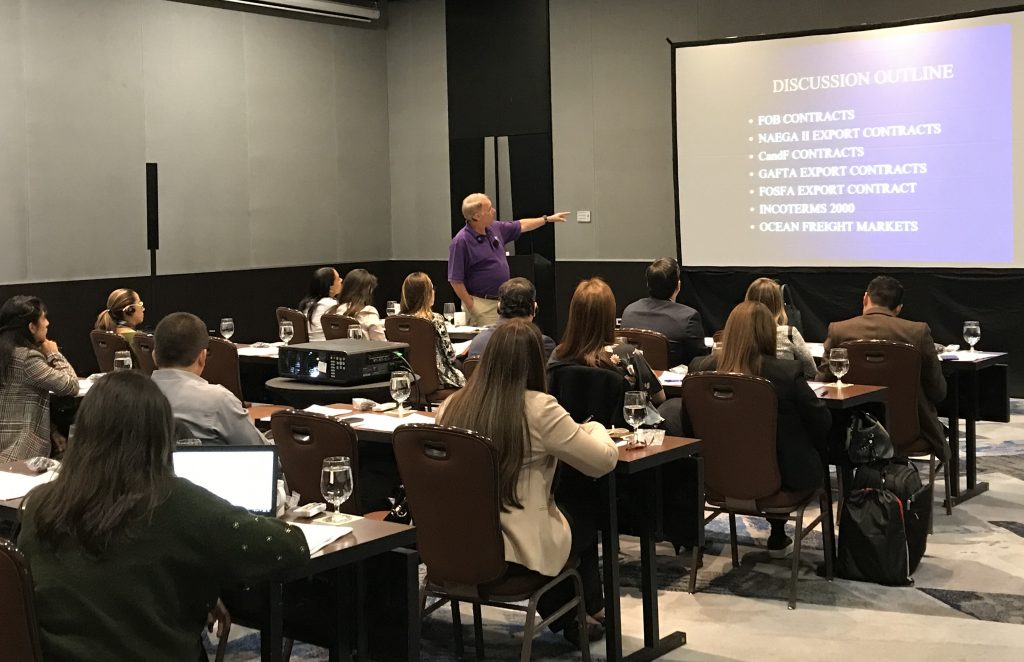 To facilitate a better understanding of the specific contracts used for trading feed grains and co-products, the U.S. Grains Council (USGC) recently conducted a series of boot camps for major Latin American customers.
The intensive training sessions included information on the most relevant sections of a contract; contractual rights and obligations for both buyers and sellers; and tools for better understanding the risks and benefits of different contracting clauses.
The boot camps were well-timed to address delays Latin American importers have experienced in 2019. Some customers brought copies of their current international grain contracts to discuss issues or problems as well as to discover missed opportunities.
"Few participants were aware of the duties and rights that a contract entails," said Catalina Correa, USGC regional marketing specialist, who led boot camps in El Salvador and Panama. "Trading feed ingredients is an activity that requires trust and a very good understanding of what each side needs.
"Even with a contract that covers each transaction, daily communication must prevail in a long-term trading relationship."
The boot camps took place in San Salvador, El Salvador; Panama City, Panama; Bogota, Colombia; and Medellin, Colombia. Importers and end-users in attendance represented not only the host countries, but also neighboring countries throughout the Latin American region. Overall, 130 importers and end-users from 13 countries participated in the workshops.
The Council previously offered training courses, known as trade schools, that covered a variety of topics including supply and demand, freight market information, logistics and risk management. However, active discussion during these programs highlighted the need for deeper dives into specific topics, including contracting.
"Trade school attendees expressed interest in spending more time on fewer topics," said Ana Ballesteros, UGSC regional marketing director, who led the workshops in Colombia. "As a result, the Council modified the format to provide a more in-depth training session."
Both formats provide opportunities to interact with the most important customers in the region, communicate quality information and establish a positive image of the Council's ability to offer value-added information to buyers.
The Council plans to conduct similar in-depth workshops on other topics, including a regional boot camp on risk management in September 2019.
"Workshops like these keep our customers informed and educated regarding their contractual rights and obligations," said Jay O'Neil, a commodity consultant who participated in the sessions. "As we all know, a well-informed and happy customer is a good customer."
About The U.S. Grains Council
The U.S. Grains Council develops export markets for U.S. barley, corn, sorghum and related products including distiller's dried grains with solubles (DDGS) and ethanol. With full-time presence in 28 locations, the Council operates programs in more than 50 countries and the European Union. The Council believes exports are vital to global economic development and to U.S. agriculture's profitability. Detailed information about the Council and its programs is online at www.grains.org.