If you know the U.S. Grains Council (USGC), chances are you know Melissa Kessler, the Council's director of strategic initiatives and engagement. During her tenure, Kessler has made many positive contributions to the organization, building pieces of the Council's communications function to operate well in today's trade environment; leading the way for diversity, equity, inclusion and belonging (DEIB) initiatives; running a popular series of trade schools; and readying the Council's future through its strategic planning process, to name a few.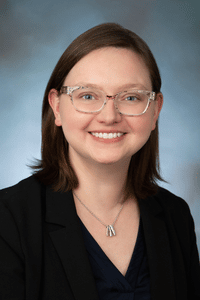 "I want to thank Melissa for her many contributions across many departments during her time at the Council," said USGC President and CEO Ryan LeGrand. "From communications to strategic initiatives to USGC stakeholder engagement to trade policy – Melissa has touched these and many other areas of our daily work during her eight years with the Council.
"She effectively managed relationships with important partners such as National Corn Growers Association and those working to increase funds for the Market Access Program (MAP) and Foreign Market Development (FMD)."
Kessler sat down with Global Update editors to share her Council experience.
When did you start working for the Council? What interested you about the position?
I started working for the Council in the summer of 2014. I didn't come looking for the job; Marri Tejada (then Carrow), who was moving to run our Panama office – a job she is still doing today! – approached me and made a very strong pitch for the organization. I came for several reasons: the timing was right for me personally, the Council had (and has) a strong reputation in our space, I am interested in complex systems, and I am a committed free trader, having studied American and international policy in college immediately post 9/11. Mostly, I thought the job would be fun and interesting, so why not?
Tell me about your work for the Council. How has your job changed over the years you have worked here?
I've been at the Council just over eight years, in three roles. My background is a mash up of communications, policy, agriculture and process – how people work together, how information flows – so I've shifted a lot based on what needed to be done. I mostly did pure-play comms for the first few years, and then the 2016 election shifted my work dramatically until well into 2020. Since then, I have focused much more on direct policy and organization operational issues, including strategy and capacity, which has been a great chance to fold together my experiences and education.
Tell me about one of your favorite memories or highlights working for the Council – a work trip, an event, an interaction.
I have a ton of these – actually, I have been keeping a list on my phone! A highlight has to be a mission to Mexico in 2017 with a team of ag reporters. This was just as the NAFTA renegotiation was taking place, and we were heartily welcomed. Everyone wanted to meet with us (and host us for a meal), and the reporters wanted every interview, every photo possible. Javier Chavez in our Mexico office was our leader and guide, and he showed them everything they could hope for. It was a wild week and a true highlight that is still paying dividends today.
Beyond that, I feel really honored to have been a part of the process of setting up the India office by helping think through next steps at various points over the last four years or so. Building a trade education function and running trade schools has been really meaningful to me personally and professionally. I will never forget the day we almost withdrew from NAFTA or the day China imposed tariffs on sorghum that stopped boats on the water – those will be seared in my memory for a long time.
What have you enjoyed most about working for the Council?
I firmly believe two things about the Council: 1) only smart people work here, because if you're not smart, and you're not interested in applying those smarts, you can't keep up. And 2) I will never work somewhere more interesting because what we do is just so dynamic. And this is an environment in which people really want good ideas – they don't always fly, but there's a hunger for the next insight, the next innovation. That is what has kept me going at USGC.
What would you consider to be some of the highlights of your work since you began working with the Council? Your challenges?
It may sound strange, but now looking back, the highlight was seeing the organization come through – and helping it come through – the "trade war." When I was talking to Council leaders about this job in 2014, I said I am interested in how individuals influence the environment and vice versa. I could not have imagined the case study coming my way! I think we will look back and see that era, that cycle in history, having fundamentally changed our geopolitics and our global economy. It definitely impacted this organization and this industry's conversation about trade and market development, mostly for the better. Of course, it was highly challenging, but as I said to our former CEO once, when my youngers ask someday what I was doing during this period, I don't want to say, sitting around drinking beer.
What would you consider your top three accomplishments in your Council career to be?
That's a hard question better answered by others, but I'd like to think we built a solid communications department, a solid trade education program and a solid foundation for an India office that benefits the industry for decades to come. All of those were team efforts, on which I was happy to play a solid role.
Any parting words as you move out of your current role?
Being in this organization has offered me so many chances to meet fascinating people, engage on complex issues, see things, do things, learn so, so many things on really so many topics. As I make this transition and reflect, almost all of these memories really are about being with people. We have so many lovely colleagues, members and customers who have made this ride memorable and enjoyable, even in the harder times. So, my final words will be those of appreciation for this experience and those people!
Kessler will depart the Council on Sept. 2 to return full-time to her consulting practice, Organizations + Communications. She will continue to assist the Council with projects as needed, including the completion the organization's strategic plan.
Thank you, Melissa, for your contributions to the Council!
About The U.S. Grains Council
The U.S. Grains Council develops export markets for U.S. barley, corn, sorghum and related products including distiller's dried grains with solubles (DDGS) and ethanol. With full-time presence in 28 locations, the Council operates programs in more than 50 countries and the European Union. The Council believes exports are vital to global economic development and to U.S. agriculture's profitability. Detailed information about the Council and its programs is online at www.grains.org.