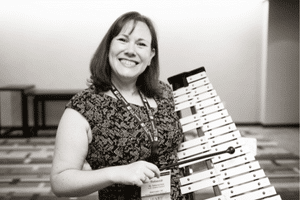 Rebecca Kane, U.S. Grains Council (USGC) meeting manager, closes out her time at the Council today, April 14. Kane's Council tenure has been devoted to ensuring the best experiences for the organization's members when they come together at meetings and conferences, whether that be in the United States or abroad.
"Rebecca has done a lot to elevate the meeting experience for our members. Over the past six years, she has moved the industry relations department and the organization and membership forward," said Ellen Zimmerman, USGC director of industry relations.
Global Update editors sat down with Rebecca to get a recap of her time with the Council.
What has your Council experience looked like?
This past October, I celebrated six years at the Council. I knew I wanted to be an in-house meeting professional, and the U.S. Grains Council had just created a role to focus solely on meetings. It was a perfect match. I was hired for our February and July annual member meetings, along with Export Exchange, and since then, that has grown to include ethanol summits and countless other staff conferences and receptions. I have also been a resource to our overseas offices on contracting and programming. I am grateful to also have had the international meetings experience the Council offered.
What is the thing you remember most about your role?
I take a lot of pride in my work when I am onsite at a meeting and see that everything I have envisioned has come to fruition. Success to me means people have attended, they want to attend and they have some return on investment, even if that is just learning something new. One of the best things about the Council and its meetings – we stay relevant to what is happening in trade and the world.
A fun fact about the work I do: In 2018 and 2019, meetings manager was ranked as one of the top five most stressful jobs in America.
What would you consider to be the highlights of the work you've done with the Council since you began? The challenges?
There are so many on both fronts, though I will focus on the past two years. When the pandemic hit and everything shut down, not only around the world but also at the Council, meetings had to change. I was excited to take on the virtual aspect. In attending a lot of webinars on facilitating virtual events, I learned mostly what I did not like about the webinars and what one shouldn't do, and I had to figure out to make it a smooth process.
The Council's meetings are unique, and there are not a lot of other meeting professionals who have the types of meetings we do. To have seven Advisory Teams (A-Teams) running simultaneously with their different agendas, live speakers, offering the ability for everyone to speak to each other, plus having people on the back end running logistics, it is a lot. Then to have it as a hybrid event – I have not found many meeting professionals doing this, and we are mastering it. I am so proud of what we accomplished and knowing I had a hand in it is invaluable.
What would you consider your top three accomplishments in the role to be?
First, creating an experience everyone at the Council has come to know and appreciate at our meetings. While meetings have always been there, to know that I helped create a different process internally over these years is something I am very proud of.
Secondly, the ethanol summits were new meetings I was able to help create. It was also the first meeting I really understood how far the U.S. Grains Council reached overseas, and not just to buyers but also to agriculture ministers within other governments. I will never forget an attendee coming up to me and asking for a presentation right away because he had to leave early. The president of his country was requesting a meeting with him the next day, and he needed to present what he had learned. While the summits were a group effort within the Council, I know I had a huge role in them.
Lastly, on a professional level, the Council supported me in obtaining my Certified Meeting Professional certification. It was the biggest accomplishment I could have in my professional career.
What advice do you offer to the next person in your role?
Learn as much as you can about the Council and the work it does; it will help in building the meetings and understanding the importance of all the programs the Council coordinates. Meet the members and do not be afraid to ask questions, especially if you did not grow up in agriculture.
What will you miss most about the Council?
The people. I truly enjoy going to our meetings and seeing the members. Everyone is very welcoming, and I have been very lucky and fortunate to have met and worked with the most incredible people.
Any parting words as you move into your next role?
Most people do not know that I found this job, left New York, moved to D.C. and never looked back. Working at the Council has given me incredible opportunities, and I have realized I made the right decision to become an in-house meeting professional. The good news is I am still working in agriculture, and I am sure our paths will cross again.
The Council wishes Rebecca the best of luck in her new role as the director of meetings for the American Feed Industry Association!
About The U.S. Grains Council
The U.S. Grains Council develops export markets for U.S. barley, corn, sorghum and related products including distiller's dried grains with solubles (DDGS) and ethanol. With full-time presence in 28 locations, the Council operates programs in more than 50 countries and the European Union. The Council believes exports are vital to global economic development and to U.S. agriculture's profitability. Detailed information about the Council and its programs is online at www.grains.org.