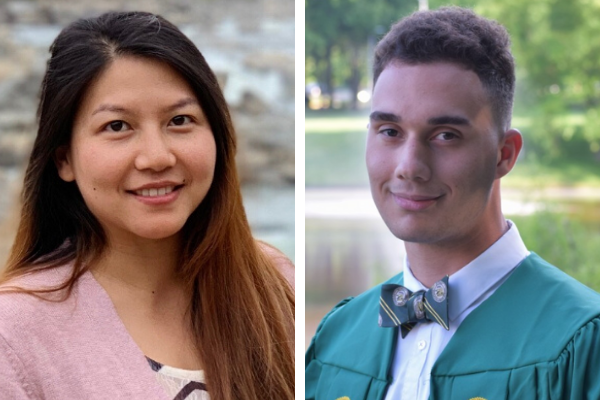 Two new staff members recently joined the U.S. Grains Council (USGC) in the organization's Washington, D.C., headquarters – Jack Custard, as trade policy and biotechnology coordinator, and Milla Par, as junior accounting assistant.
Custard started in his role with the trade policy team on Oct. 23, where he will provide support by organizing staff and member travel and make arrangements for visiting teams, facilitating program planning as well as preparing and maintaining correspondence, reports, information management and contracting.
"Jack has strong enthusiasm to gain experience with the foreign market development and trade policy objectives," said Floyd Gaibler, USGC director of trade policy and biotechnology. "We look forward to his growth and contributions to the Council's mission."
Prior to joining the Council, Custard worked as the innovations management and community involvement intern for the Howard Hughes Medical Institute, Janelia Farms Research Campus in Ashburn, Virginia. He earned a bachelor's degree in global affairs and legal studies from George Mason University.
Down the hallway, Par officially joined the Council's finance team on Nov. 4 after working as a temporary employee since July 2019. In her position as junior accounting assistant, she will provide accounting support to members of the finance team to aid in ensuring the accuracy of accounts payable.
"Milla has been a great addition to the accounting department," said Helen Elmore, USGC director of finance and administration. "Her attention to detail, customer service skills and willingness to take on multiple and varied tasks make working with her a pleasure."
Before coming to the Council, Par worked as an accounting intern during tax season for accounting firm Bill Posner, CPA, in Maryland. She earned a bachelor's degree in accounting from the University of Maryland.
Please join the Council in welcoming Jack and Milla!
About The U.S. Grains Council
The U.S. Grains Council develops export markets for U.S. barley, corn, sorghum and related products including distiller's dried grains with solubles (DDGS) and ethanol. With full-time presence in 28 locations, the Council operates programs in more than 50 countries and the European Union. The Council believes exports are vital to global economic development and to U.S. agriculture's profitability. Detailed information about the Council and its programs is online at www.grains.org.