Azleen Iberahim, the U.S. Grains Council's (USGC's) administrative and project manager in Southeast Asia, was recognized for 25 years of service to the organization at the 19th International Marketing Conference and 62nd Annual Membership Meeting in February.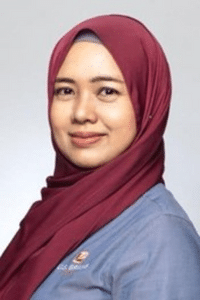 Azleen assists the director of programs in Southeast Asia with programming for the region, while also handling the administrative tasks in the office.
"I began my time with the Council on June 24, 1996," Azleen said. "I saw this role as an opportunity to build new skills while being a part of the organization's growth."
Her secret to a long-lasting career? Azleen believes that being pro-active and maintaining good relationships with colleagues is key.
"Azleen has been a big part of our Southeast Asia operations and a mainstay at our Kuala Lumpur office over these past 25 years. I had the pleasure of working directly with Azleen when she first started and through her first six years, as well as through all of her years working at the Council," said Cary Sifferath, USGC senior director of global programs. "Her welcoming demeanor has been key to maintaining great relationships with our contacts throughout the Southeast Asia region, and she is a great team member to our expanding regional team working on market development of feed grains in all forms."
Throughout those 25 years, Azleen's favorite memories have taken place right in the region.
"My favorite memories of working with the Council are from traveling within the Southeast Asia region to conduct Council seminars," Azleen said. "I've also enjoyed visiting the plants and ports."
When asked what she enjoyed most about working with the Council, Azleen praised the team she has been on.
"I enjoy the collaboration among our Southeast Asia and Oceania team," Azleen said. "We have the same vision and are dedicated to the mission of the organization. It's great to have the opportunity to work in a team environment."
Please join us in celebrating Azleen Iberahim's 25-year milestone with the Council!
About The U.S. Grains Council
The U.S. Grains Council develops export markets for U.S. barley, corn, sorghum and related products including distiller's dried grains with solubles (DDGS) and ethanol. With full-time presence in 28 locations, the Council operates programs in more than 50 countries and the European Union. The Council believes exports are vital to global economic development and to U.S. agriculture's profitability. Detailed information about the Council and its programs is online at www.grains.org.