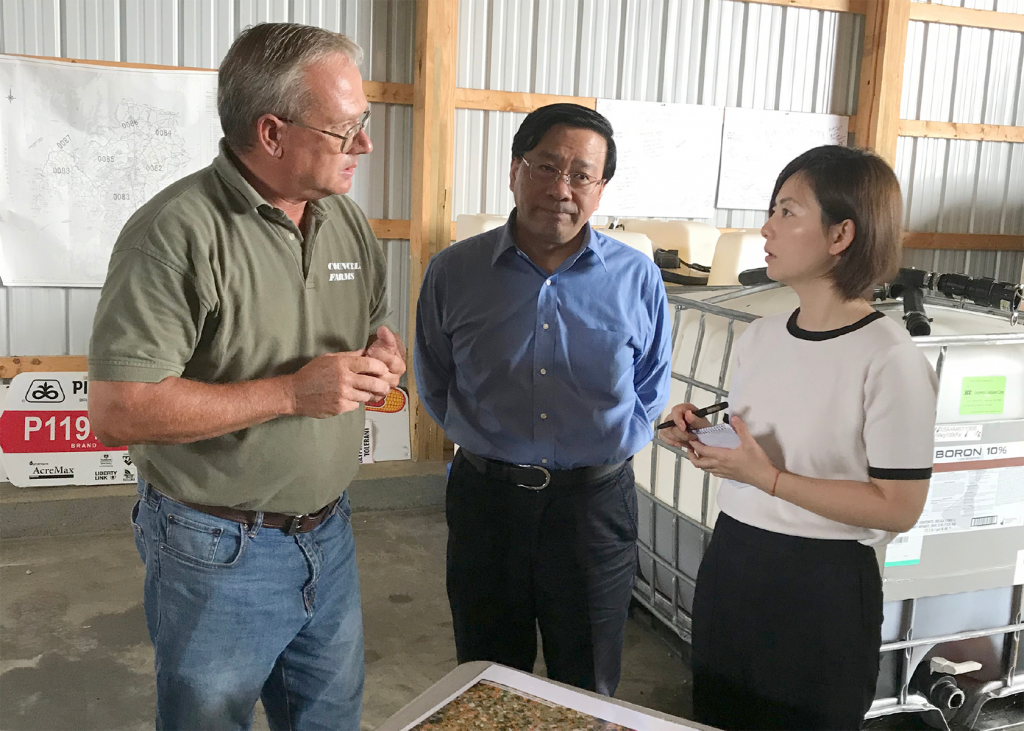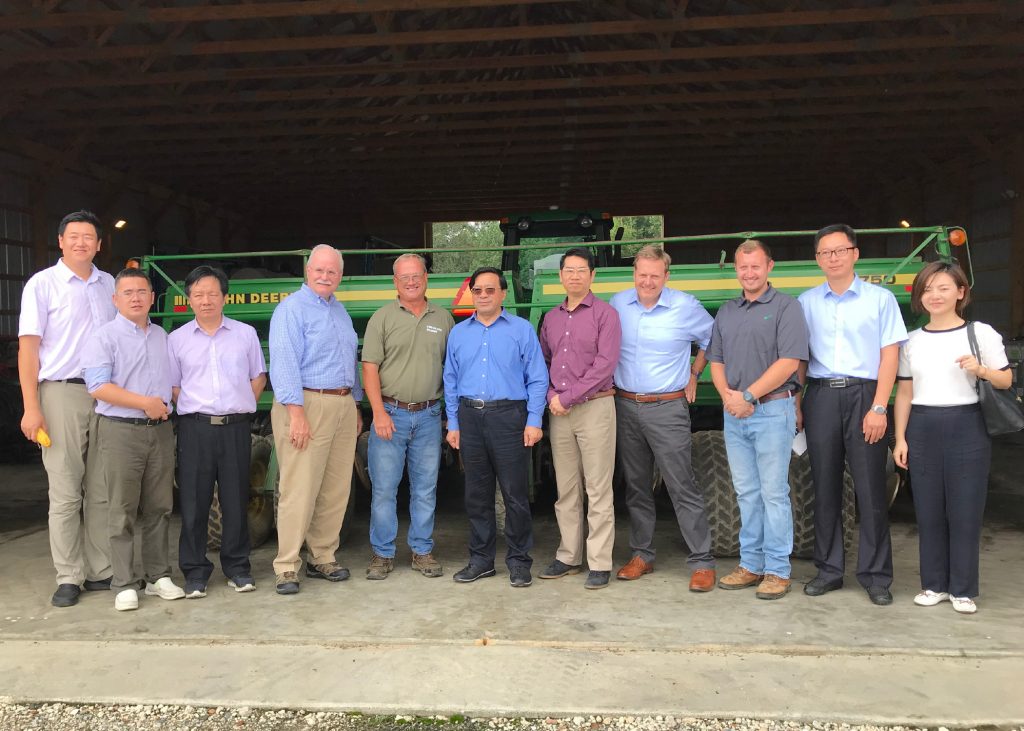 A vice minister of the Chinese Ministry of Agriculture and Rural Affairs, Han Jun, traveled to the Eastern Shore of Maryland this week as part of a delegation visiting the United States to consult with the U.S. agricultural industry on the current economic and trade situation and express optimism that tensions could be resolved in the months ahead.
USGC Past Chairman Chip Councell hosted the delegation at his farm in Talbot County, Maryland, to discuss how the use of new breeding methods and biotechnology has improved productivity and preserved critical natural resources.
"As a farmer, I am happy to do anything I can to help our trading partners learn about how we farm," Councell said. "The two countries rely on each other for markets for goods produced, particularly for agricultural exports."
The Council has worked with the vice minister for more than 10 years in addition to other Chinese officials. Wei Zhenglin, counsellor at the Embassy of the People's Republic of China in Washington, D.C., spoke at the Council's membership meeting in July about the status and future of the U.S.-China agricultural and trade relationship. He has visited Councell's farm twice before, prompting the excursion this week.
The delegation visited one of Councell's corn fields and viewed his machinery, followed by a discussion with Councell at his warehouse. The team was impressed by the successful combination of conservation, precision farming, biotechnology and risk management he uses in his operation as well as how local farmers utilize consultants to analyze production data and recommend which varieties to plant each year.
"Activities like this delegation demonstrate the Council's commitment to an ongoing conversation between our two nations," said Tom Sleight, USGC president and chief executive officer. "China is a a major, complex market, and the U.S.-Chinese relationship is critical. While trade relations with China remain challenging, the Council is still engaging, talking and working in the market – as the organization has for 35 years."
The delegation represents just one of the Council's trade missions traveling to and from China this year. Sorghum industry representatives are participating in an annual conference on feed ingredients in China this month, and corn members will participate in an ethanol-focused mission later in September. These teams are part of the Council's work to mitigate concerns in the short term and build trust and support over the long-term with customers in China.
Learn more about the Council's work in China here.
About The U.S. Grains Council
The U.S. Grains Council develops export markets for U.S. barley, corn, sorghum and related products including distiller's dried grains with solubles (DDGS) and ethanol. With full-time presence in 28 locations, the Council operates programs in more than 50 countries and the European Union. The Council believes exports are vital to global economic development and to U.S. agriculture's profitability. Detailed information about the Council and its programs is online at www.grains.org.