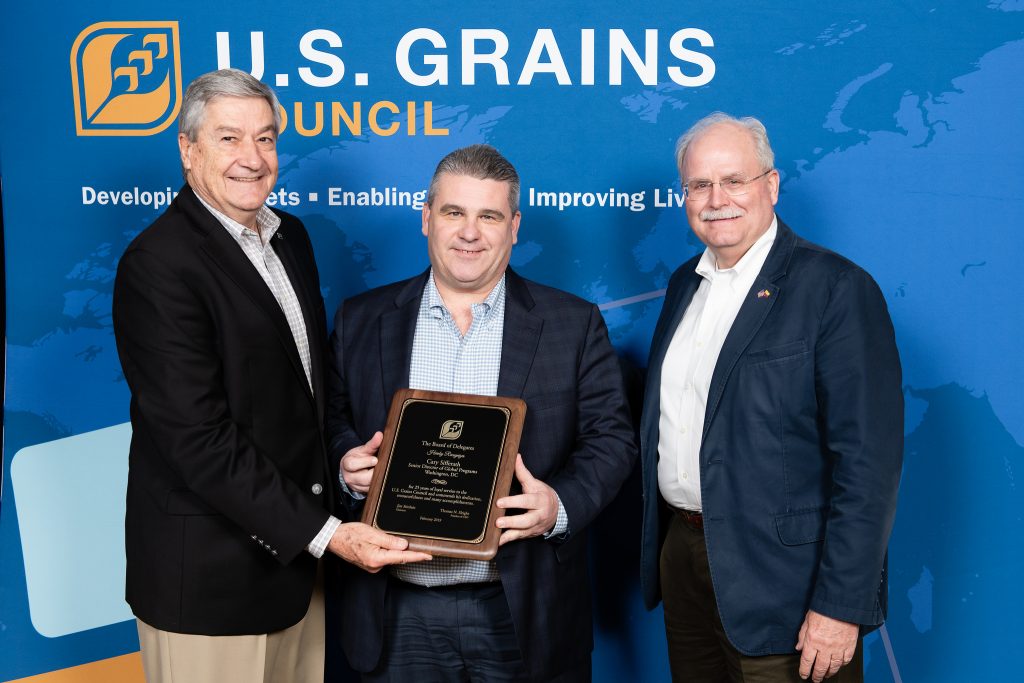 Before he was even offered a job, Cary Sifferath was sold on the work of the U.S. Grains Council via a long-distance newscast back when car radios had dials and long before job seekers could Google their prospective employers.
Driving around Southern Wisconsin, he heard Orion Samuelson interviewing the then-U.S. Feed Grains Council chairman and chief executive officer, who were in Japan to celebrate the 50th billion bushel of U.S. corn exports. He realized the organization being featured was the same one he was set to interview with a few days later, based on an application in response to an ad in Feedstuffs magazine.
Three interviews and a quick trip to Washington later, he was hired as manager of international operations for Asia. After a few years there, he took a job in the Council's Kuala Lumpur office, ultimately staying overseas for 19 years and running four of the Council's overseas offices, in Malaysia, Japan, China and Tunisia. Still running the Tunisia office, he moved back to Washington in 2014 and became senior director of global programs in the summer of 2015.
Sifferath was honored for his 25 years of service to the organization at the Council's 16th International Marketing Conference and 59th Annual Membership Meeting last week in Cartagena, Colombia.
Over that long tenure, it's clear the reason he has kept at it is the diversity and dynamism of the work.
"The international culture, the people, the markets, the situations, the problem solving, the things that are always changing – even though you do the corn quality report eight years in a row, and you fly to Jakarta to meet with one of the corn buyers in Indonesia for the 25th time, the issues underlying it make it not routine," he said.
"Whether it's a trade issue, a phytosanitary issue, an economic crisis that hits, all these things change, so that keeps it interesting and challenging."
He said Southeast Asia was an exciting place to live and work, and also where he met his wife. Japan was his longest post, at seven years; he enjoyed living there and has kept up industry and personal relationships since leaving the country. China was "unique, challenging, different." Tunisia was living a bit of history, with the Arab Spring happening outside his door.
"One thing I always appreciated is the flow of living through events like the Southeast Asian economic crisis, the Arab Spring in North Africa, and seeing how those major, life-changing events for the people in your country or region not only affect your job and the Grains Council but the people at the companies you are working with and the guy living across the street from you," he said.
Sifferath has seen incredible growth in many of the markets in which he's worked, along with the Council's evolution to take advantage of opportunities in feed and livestock, food applications, value-added products and now ethanol and the coming bioeconomy.
As an example, he first visited Vietnam in 1996, just after the Council became ble to use USDA funding for programs there. He said he had high hopes for the country at the time, but is "astounded" by how large of a market it has become for corn and distillers dried grains with solubles (DDGS), the latter of which didn't even exist in meaningful quantities at the time.
"To see a market do that, to be involved on the ground floor and to see what it has become today as a market, that's something that's been a strong part of my experience at the Council," he said. "And you always think, where is the next South Korea, where is the next Vietnam, is it Myanmar, Bangladesh, Tanzania, another country?"
Sifferath said he's been fortunate to work with many dedicated colleagues over the years, and he's pleased with how involved members are in Council programs today, which benefits the overseas operations in which he's been so deeply involved.
"Now we have farmer members and agribusiness and even various state staff traveling to take part in our programs worldwide," he said. "This helps them stay connected to what the Grains Council is doing for them and helps the Council stay relevant to what is happening in our overseas markets and even here in the U.S."
Reflecting on 25 years, Sifferath said he came for the adventure and has stayed because his work is meaningful, helping the U.S. agriculture sector and the U.S. producer.
"I came to the Council because I thought I would do something different for a few years, and it'd be interesting and a challenge. When they offered the chance to go to the KL office, I thought, okay, I'll do that for two or four years and then move back to Minnesota or Wisconsin and figure out what the rest of my life would be. But I enjoyed it so much that never happened."
About The U.S. Grains Council
The U.S. Grains Council develops export markets for U.S. barley, corn, sorghum and related products including distiller's dried grains with solubles (DDGS) and ethanol. With full-time presence in 28 locations, the Council operates programs in more than 50 countries and the European Union. The Council believes exports are vital to global economic development and to U.S. agriculture's profitability. Detailed information about the Council and its programs is online at www.grains.org.