The U.S. Grains Council (USGC) recognized Iowa's Craig Floss for his 25 years of service to the organization at its 62nd Annual Board of Delegates Meeting in Sacramento, California, this week. Floss has been the CEO of the Iowa Corn Growers' Association (ICGA) and the Iowa Corn Promotion Board (ICPB) since 1997.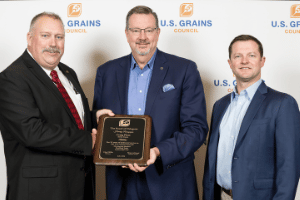 Floss grew up on a corn, soybean and livestock farm in Baxter, Iowa. He assisted with a feeder pig operation as a teenager, which helped him finance his education at Iowa State University. He went on to work in in Chicago for Spraying Systems Co., where he was responsible for all sales outside of the United States.
When Floss received a call about the position at the ICGA, he jumped at the chance to return to his home state.
"We ended up coming to Des Moines to serve Iowa's corn growers, about 35 minutes from the family farm," Floss said. "I never thought I would get the chance to come back to Iowa, let alone so close to home. It has worked out very well personally and professionally."
Floss' involvement with the Council began immediately afterwards, joining a trade team to Malaysia, Vietnam and China that was "very impressionable" for him during his transition into Council activities.
"It really helped me understand the Council's purpose in terms of not just grain sales, but also the grain shipping and port industries as well," Floss said.
Floss served on the Council's Board of Directors from 2014 to 2018 as the state checkoff sector director, during which time he helped oversee the Council's adaptation and expansion of distillers' dried grains with solubles (DDGS) and ethanol.
"Today more than ever, it's about food security and using ethanol to reduce pollution levels," Floss said. "When you're talking about improving health from a nutritional and environmental perspective, I'd say that's a great story to be part of."
Out of the office, Floss enjoys spending time at the lake with his wife of 33 years and their three children. Floss is also a home brewer who noted he is always eager to support the barley industry by visiting international breweries to study their operations.
Please join the Council in recognizing Craig for his outstanding 25 years of service!
About The U.S. Grains Council
The U.S. Grains Council develops export markets for U.S. barley, corn, sorghum and related products including distiller's dried grains with solubles (DDGS) and ethanol. With full-time presence in 28 locations, the Council operates programs in more than 50 countries and the European Union. The Council believes exports are vital to global economic development and to U.S. agriculture's profitability. Detailed information about the Council and its programs is online at www.grains.org.