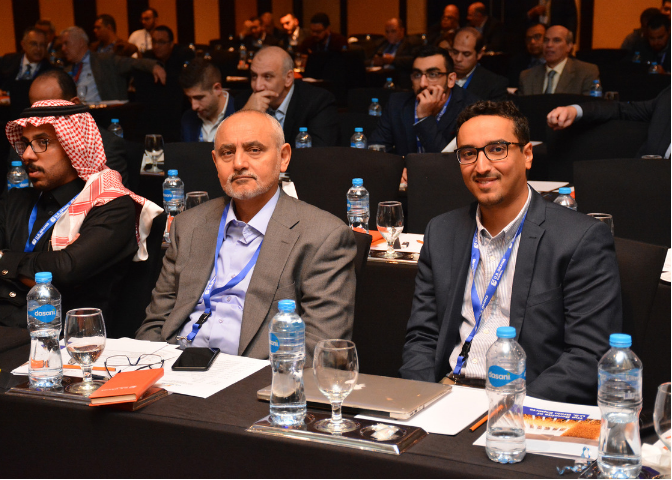 If it's January, it's a good bet there's a U.S. Grains Council (USGC) corn quality rollout event going on somewhere around the world. This week, it's happening in the Middle East, specifically Egypt, and the focus is on U.S. corn and distiller's dried grains with solubles (DDGS).
Eighty-five grain importers and end-users from Morocco, Tunisia, Egypt, Turkey, Saudi Arabia, the United Arab Emirates, Lebanon and Jordan gathered in Cairo to get an update on the quality of U.S. corn they can expect in the coming months, and regional buyers have confirmed they've experienced good-quality corn imports from the United States this year.
The Council put U.S. farmers front and center at the rollout this year to show how the quality of U.S. corn starts with the grower – the decisions they make about which crops to grow, the soil conditions they look for, how weather affects their crops, when they harvest and how they get it to buyers in the Middle East and North Africa.
The learning goes both ways, according to Jennie Schmidt, Maryland farmer and member of the Maryland Grain Producers Utilization Council.
"I have long known that the Council promotes global markets for increasing use of our grains and that they had staff in various countries to help facilitate that," she said. "What I didn't realize until today is that they are really vested in forecasting grain demand from the countries or regions they represent, have a strategic plan for 2019 to corner more of specific grain markets or uses, and are truly dedicated to what they do.
"I was able to share my family farm, our history, our stewardship, our diversification and my role as now past-president of Maryland Grain Producers Utilization Board, the board that administers Maryland grain checkoff dollars. I'm very excited about my experience here in Egypt these past few days and even somewhat reassured that in the face of trade wars and tariffs, we have Council staff working on behalf of US farmers around the world."
The event included a supply and demand outlook by USGC Middle East/Africa Regional Director Ramy Taieb; a detailed report on the results of the corn quality report given by Lee Singleton, senior consultant, Centrec Consulting Group; farmer perspectives from Schmidt and Eric Neer, Ohio Corn Marketing Board; and additional discussions of DDGS nutrition and feeding, grain inspection, handling and transportation and a spotlight on the Tunisian regional feed miller training program.
"The Council's corn quality rollout program is the perfect way to match a grower with potential buyers," Neer said. "Not only do I get to explain my passion for what I do, it allows these end-users to ask me questions and get to know me better as a farmer who takes pride every day in what he does. Making those connections are invaluable, and I think it goes both ways."
Before and after the event, Council staff held side events with the growers, visiting an aquaculture feed mill, a long-time Council-supported feed laboratory, a starch plant owned by the largest buyer of U.S. corn in Egypt and other meetings with grain importers.
"By bringing Jennie and Eric along on these meetings, they were able to learn about how the Council maximizes market opportunities," said USGC Senior Director of Global Strategies Kurt Shultz. "Beyond looking for sales prospects, trade servicing is a critical part of what we do and is key to the long-term relationships the Council has cultivated in the region."
The Middle East and North Africa region imports approximately 10 million metric tons of feed grains (equivalent to 394 million bushels of corn) from the United States annually, and the changing trading dynamics today make these activities particularly relevant this year as buyers expect U.S. exports to the region to grow.
Egypt imported 1.33 million metric tons (52.3 million bushels) of U.S. corn in 2017/2018 and 165,000 metric tons of U.S. corn gluten feed/meal (in the same year. Saudi Arabian purchases of U.S. corn remained above a five-year average and came in at 1.49 million metric tons (58.7 million bushels). And the United Arab Emirates purchased 47.4 million gallons (16.8 million bushels in corn equivalent) of U.S. ethanol in last year.
According to the U.S. Department of Agriculture (USDA), rising incomes and populations will foster strong demand for livestock products, leading the Middle East and Africa to account for more than half of the growth in world coarse grains imports through 2026.
For more information on the Council's work in the Middle East and North Africa, click here.
About the U.S. Grains Council
The U.S. Grains Council develops export markets for U.S. barley, corn, sorghum and related products including distiller's dried grains with solubles (DDGS) and ethanol. With full-time presence in 13 key markets and representatives in an additional 15 locations, the Council operates programs in more than 50 countries and the European Union. The Council believes exports are vital to global economic development and to U.S. agriculture's profitability. Detailed information about the Council and its programs is online at www.grains.org.