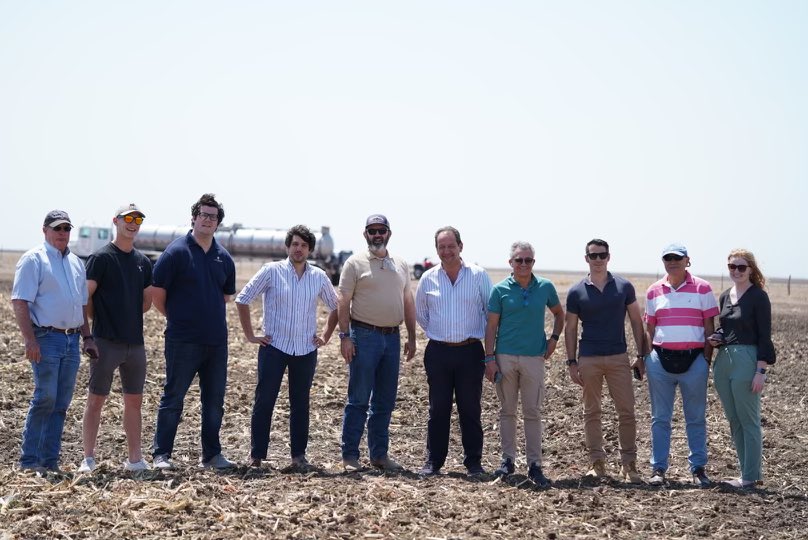 Buyers from Turkey, Spain and Portugal joined U.S. Grains Council (USGC) staff last week in Texas to see the sorghum value chain in action.
According to U.S. Department of Agriculture (USDA) data, Spain has accumulated purchases of sorghum this year of 86.9 thousand metric tons (TMT) (3,421,079 bushels), making the country the third-largest U.S. sorghum buyer so far in this marketing year.
Led by Reece Cannady, USGC assistant regional director for the Middle East and Europe; Paige Stevenson, USGC manager of global trade; and Ibrahim Sirtioglu, USGC consultant in Turkey, the group began the tour by meeting with the United Sorghum Checkoff Program (USCP), a Council member. USCP staff provided the group with an overview of its work to share the benefits of U.S. sorghum and its quality with the world.
The next few days were spent in Amarillo, where the team toured a cattle feedlot, met with a sorghum seed producer, and visited a sorghum farm, a grain storage cooperative and a grain inspection agency.
"By going to commercial feedlots while also touring sorghum country, we were able to take advantage of a prime opportunity to show our overseas customers how large-scale beef production happens in the States. This is something that can really be put into perspective when you see the cattle yourself—you can read all you want about feedlots with more than 50,000 head of cattle, but until you see it, it's hard to imagine," Cannady said.
The team closed out its time in Texas by visiting Houston, where it had the opportunity to tour the facilities of the Andersons, Inc., and Hansen Mueller, both Council members.
"By showing our customers sorghum's journey from seed development to export, our customers know precisely what they're spending their money on," Cannady said.
Through transparently sharing the lifecycle of sorghum from the field to the port, the Council hopes to strengthen and create new opportunities for the U.S. commodity in Turkey and the European Union.
About The U.S. Grains Council
The U.S. Grains Council develops export markets for U.S. barley, corn, sorghum and related products including distiller's dried grains with solubles (DDGS) and ethanol. With full-time presence in 28 locations, the Council operates programs in more than 50 countries and the European Union. The Council believes exports are vital to global economic development and to U.S. agriculture's profitability. Detailed information about the Council and its programs is online at www.grains.org.