1. Ethanol, Fuels and Co-Product Pricing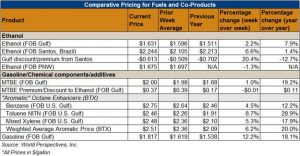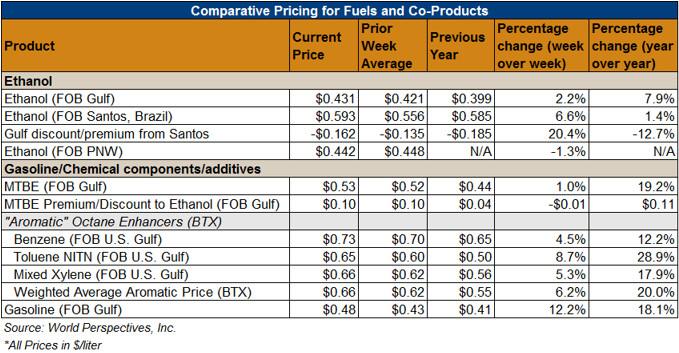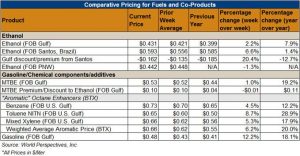 Please note that this week's publication was delayed to account for the release of USDA's export sales data on Wednesday, September 6, 2017.
Market Outlook: Ethanol prices are higher to start the U.S. holiday-shortened week. Ethanol futures are 5.4 cents/gallon (1.43 cents/liter) higher than a week ago while FOB Houston prices are up 5.25 cents/gallon (1.387 cents/liter). Ethanol markets have been supported by stronger corn prices and much higher petroleum product prices.
Hurricane Harvey's impacts, and those feared from the looming Hurricane Irma, caused petroleum markets to increase. RBOB futures leapt 7% higher by Friday last week and are 8% higher today than last Tuesday. WTI crude oil futures are up 4.8% this week while Brent crude oil futures are trading 3.3% higher than last week.
The futures market rally pales in comparison to the cash markets, however. Gasoline is badly needed in the near-term and is in short supply. Accordingly, 83.7 octane RBOB FOB Houston pipeline prices are up 7.9% from last week, trading at $1.914/gallon ($0.5057/liter). Prices for 87 octane CBOB gasoline waterborne FOB U.S. Gulf are 8.5 cents/gallon (4.65 cents/liter) higher this week, equivalent to a 4.7% increase.
After last week's stunning rally, prices for "aromatic" octane enhancers (benzene, toluene, and xylenes) are slightly softer to start the week. Expectations, however, are for prices to continue their move higher, supported by higher gasoline and ethanol prices. The estimated value of BTX is $2.484/gallon ($0.656/liter), significantly lower than U.S. ethanol prices. Similarly, MTBE FOB U.S. Gulf prices finished last week 7.9% higher at $2.07/gallon ($0.547/liter), 28% higher than FOB U.S. Gulf ethanol prices. This week, MTBE started trading at $1.984/gallon ($0.524/liter).
Brazilian ethanol prices moved 7% higher from one week ago, with FOB Santos prices gaining 3.7 cents/liter to their last quote of 59.3 cents/liter. The FOB Houston – FOB Santos ethanol price spread widened for the fourth straight week, with U.S.-origin product reaching a 16.2 cents/liter discount to that of Brazil.
International Developments
USA: U.S. fuel ethanol exports in July totaled 116.7 million gallons (441.6 million liters), up 42% from July 2016 and up 26% from June 2017. Canada was the largest destination for U.S. ethanol exports, importing 38.7 million gallons (146.5 million liters), followed by Brazil, the United Arab Emirates, and India. July marked the second consecutive month where Canada was the largest purchaser of U.S. ethanol. July's figures put YTD fuel ethanol exports at 803 million gallons (3.041 billion liters), up 30% from 2016.
Brazil: The country officially published its quarterly ethanol import quota and tariff in the Diario Oficial de Uniao (Brazil's equivalent of the Federal Register) on September 1st. The quota/tariff provisions dictate that, over the next 24 months, any ethanol imports above 150 million liters per quarter will be subject to a 20% tariff. The first quarter for which the quota will apply is the one starting September 1, 2017.
U.S. ethanol exports to Brazil have totaled 310 million gallons (1.17 billion liters) through July. Brazilian exports through July 2017 totaled 158 million gallons (597 million liters) to the United States.
China: Chinese ethanol exports increased six-fold in July from the same month last year. China shipped 19.800 million liters last month, up from 3.297 million liters in July 2016. The majority (65%) of China's July ethanol shipments were destined for Saudi Arabia, with North Korea and the Philippines being the next largest markets. Chinese ethanol exports year-to-date total 97.1 million liters, 500% higher than last year's figures. (Reuters)
China is the world's fourth largest ethanol producer (behind the U.S., Brazil, and the EU) and the country's production is expected to continue growing, as it looks toward a more extensive biofuels policy. The latest USDA GAIN report estimates China's 2017 fuel ethanol production at 3.55 billion liters. Fuel ethanol use in China is expected to total 3.85 billion liters in 2017 (essentially unchanged from 2016) with ethanol imports, estimated at 300 million liters, filling the production/consumption gap. (USDA FAS)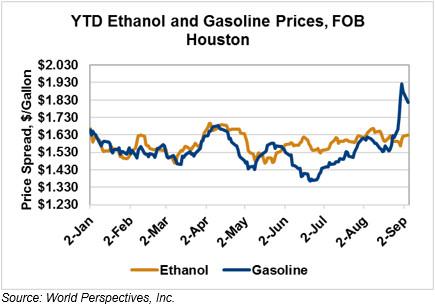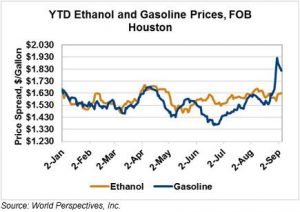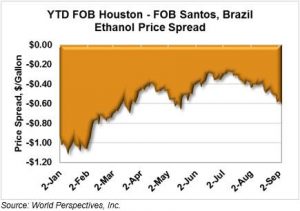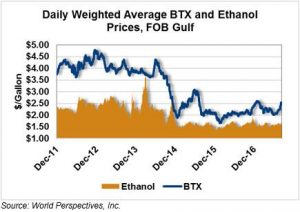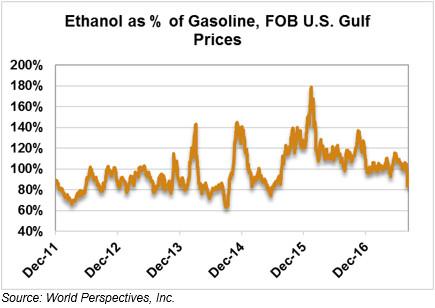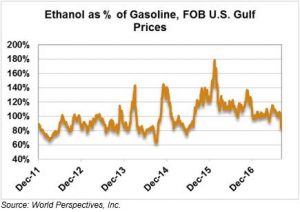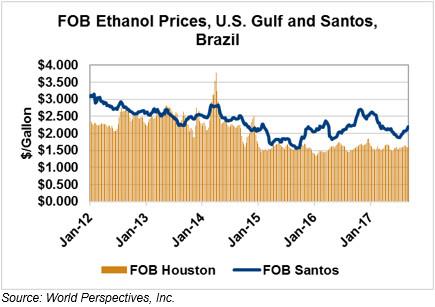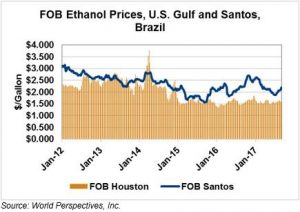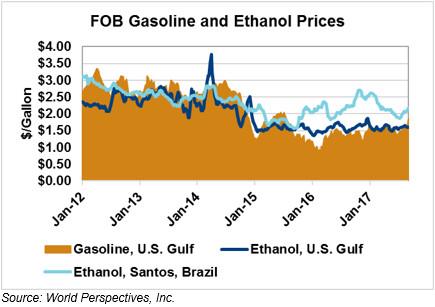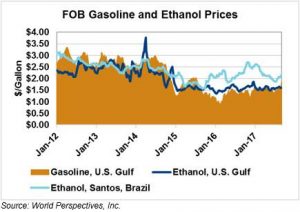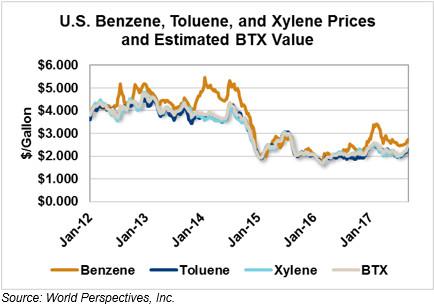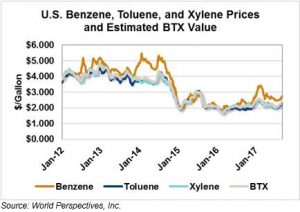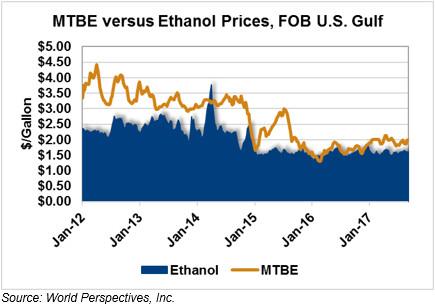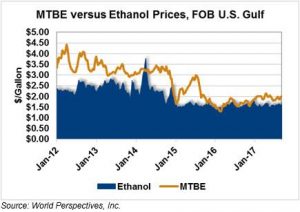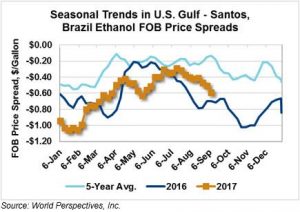 Price Database: If you are interested in historical price data, please click here.