1. Ethanol, Fuels and Co-Product Pricing
Market Outlook: Ethanol markets are flat to start the week with little movement noted in either direction. Hurricanes Harvey and Irma are over, leaving petroleum markets to normalize and work their way lower. U.S. markets were thinly traded through Tuesday and traders talked of quieter international interest as well.
CBOT ethanol futures are up 0.7 cents/gallon (0.18 cents/liter) from last Tuesday as production margins remain positive. U.S. wholesale rack prices are slightly lower on quiet buying interest and are averaging 0.08 cents/gallon (0.2 cents/liter) lower this week than last. Blending activity fell 2.38 percent from the prior week even as ethanol stocks remained steady amid a pullback in ethanol plant production.
FOB Houston prices are 0.25 cents/gallon (0.066 cents/liter) higher this week while Brazilian FOB Santos ethanol is offered 2.7 cents/gallon (0.713 cents/liter) lower than last week. This week's price decrease for FOB Santos ethanol reflects a modest pullback in what has been a steady trend higher since mid-June 2017. In contrast to the steady/weaker prices of the U.S. Gulf and Brazil, European ethanol prices have risen quickly in recent weeks. Traders are reporting maintenance shutdowns are limiting physical supplies and have lifted T2 prices to one-month highs of $2.46/gallon (65 cents/liter).
Lower U.S. Gulf and higher Brazilian ethanol prices worked to narrow the FOB Houston-FOB Santos price spread to -55.5 cents/gallon (-14.6 cents/liter) this week. The spread tends to widen during September and early October before contracting in November and December. The spread tends to narrow by 10 cents/gallon (2.6 cents/liter) from late-October into November, based on the five-year seasonal trend.
Hurricane Harvey's end and the ongoing effort in Texas to resume normal transportation logistics has pressured MTBE and BTX prices. MTBE FOB U.S. Gulf prices fell 3.51 cents/gallon (0.93 cents/liter) this week after reaching their second highest price in the past six months ($2.035/gallon, $0.538/liter) last week. BTX values decreased 11.1 cents/gallon (2.9 cents/liter) last week as improved import logistics allowed more product to enter the U.S. market. Despite lower prices for other octane enhancers, however, ethanol remains the most cost-competitive octane enhancer for U.S. gasoline.
Petroleum markets continue to fall as hurricane fears dissipate. Gasoline prices are 7-8 cents/gallon (2.05-2.18 cents/liter) lower this week but are near their two-year highs. WTI crude oil futures are up $1.3/gallon ($0.36/liter) to start the week while Brent crude oil futures are up 95 cents/gallon (25.1 cents/liter) from last week.
International Developments
China: Ethanol will be required to be blended with gasoline nationwide by 2020, according to the country's state news agency. The agency cited a plan published by the National Energy Administration and the National Development and Reform Commission that would require ethanol to be blended in all the country's 23 provinces. Currently, ethanol is only allowed in 11 of the provinces. The reports did not specify what the blending target would be, though China's news agency referred to a 10 percent blend.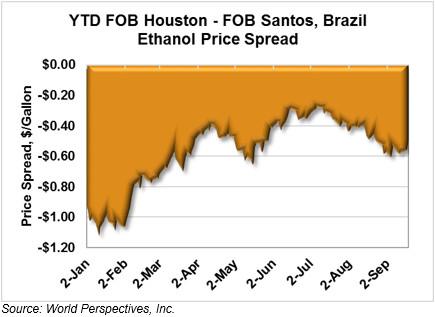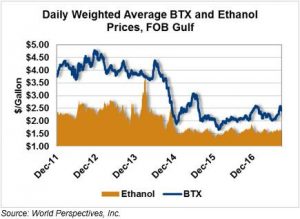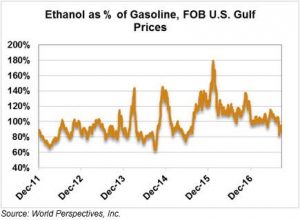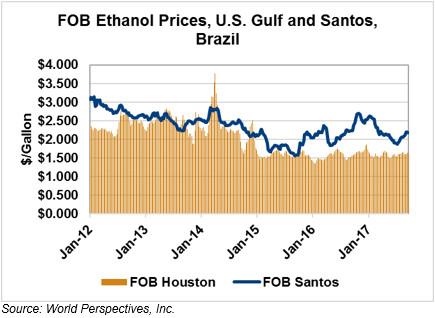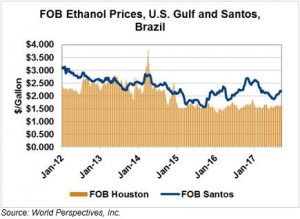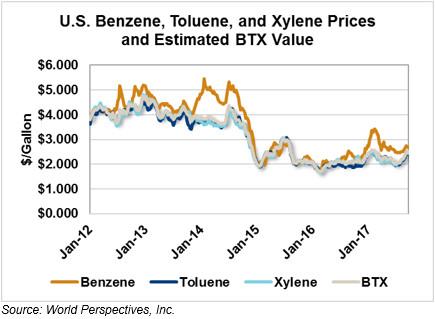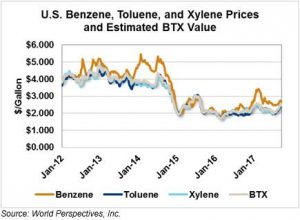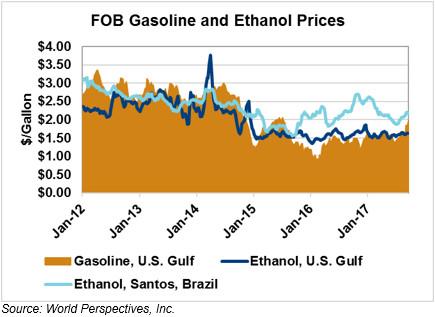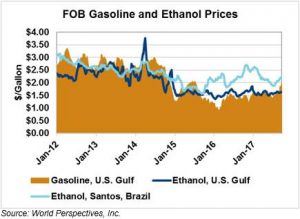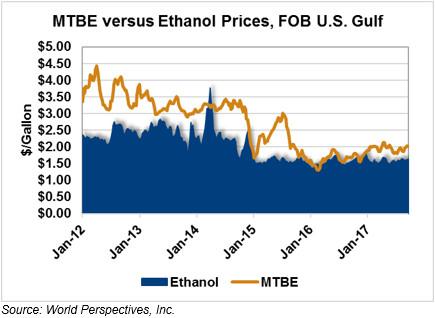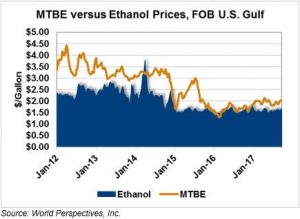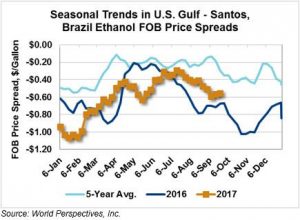 Price Database: If you are interested in historical price data, please click here.