1. Ethanol, Fuels and Co-Product Pricing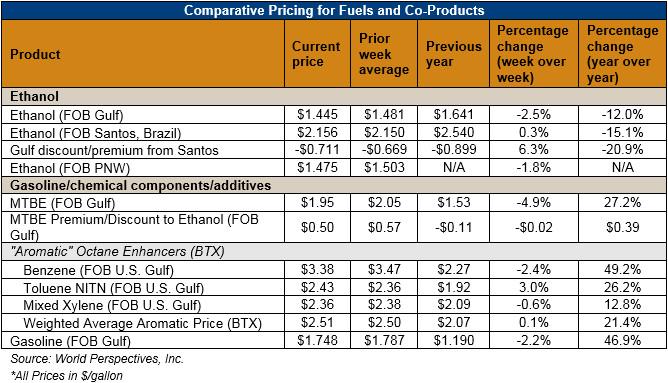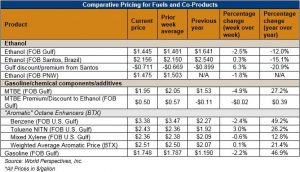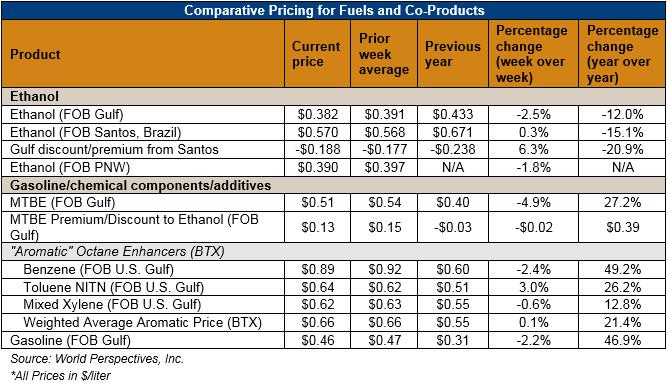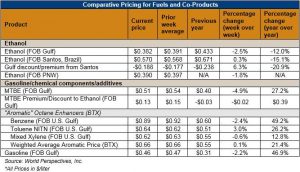 Market Outlook: FOB Houston ethanol prices are lower this week, pressured by weakness in CBOT ethanol futures and U.S. wholesale rack prices. FOB Houston ethanol is quoted at 38.44 cents/liter ($1.455/gallon), down 0.68 cents/liter ($0.026/gallon) from the prior week. Lower corn futures prices commensurately pressured CBOT ethanol futures, which are down 0.6 percent this week from last. Similarly, U.S. wholesale rack ethanol prices slipped 0.7 percent this week as demand remains light. Driving for the U.S. Thanksgiving holiday should boost gasoline demand and firmer prices are expected for this coming week.
FOB Santos, Brazil ethanol prices are largely unchanged, down 0.2 percent this week at 56.7 cents/liter ($2.146/gallon). Brazil's domestic prices are mixed this week, with hydrous ethanol prices gaining in the South and North East of the country while prices were steady/weaker in the South East and Center West. Hydrous ethanol competes with gasoline at Brazilian retail pumps and is generally competitive against the fossil fuel when its price is 70 percent or less than gasoline. Brazil's South East hydrous ethanol prices are 67.9 percent of gasoline to start this week while prices in the South, Center West, and North East are valued at 73 percent, 71 percent, and 78 percent of gasoline, respectively.
FOB Houston ethanol is the cheapest source of octane globally. The FOB Santos-FOB Houston spread widened 3.3 percent (0.58 cents/liter or $0.022/gallon) this week to its last quote of -18.26 cents/liter (-$0.69/gallon). The spread is now nearly double it's 5-year average value of -0.922 cents/liter (-$0.349/gallon).
MTBE prices are lower this week after setting a six-month high three weeks ago. MTBE FOB U.S. Gulf prices fell 2.8 cents/liter (10.6 cents/gallon) this week to 51.28 cents/liter (194.41 cents/gallon). FOB Houston MTBE is priced 12.83 cents/liter (48.57 cents/gallon) above FOB Houston ethanol.
BTX component prices are mostly lower this week with Benzene prices falling 1.9 percent week-over-week after last week's 6 percent jump higher. Toluene rose 1 percent while Xylene prices declined 2.3 percent. The weighted average aromatic price is currently estimated at 65.29 cents/liter ($2.47/gallon), down 1.3 percent from last week. The weighted average BTX price is 27.7 cents/liter (1.01 cents/gallon) higher than FOB Houston ethanol prices.
Gasoline prices are mixed this week as global petroleum markets stabilize from the shake-up in Saudi Arabia earlier this month. RBOB futures are down 0.5 percent this week while 83.7 octane RBOB FOB Houston pipeline rose 1.1 percent to 45.19 cents/liter (171.06 cents/gallon). 87 octane CBOB FOB Houston is 1.1 percent lower at 44.61 cents/liter (168.88 cents/gallon). Brent and WTI crude oil are diverging in their price patterns, with WTI crude gaining 2.2 percent and Brent rising a modest 0.6 percent.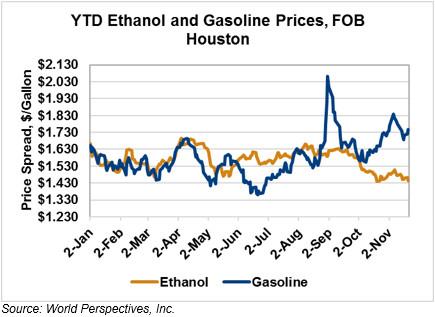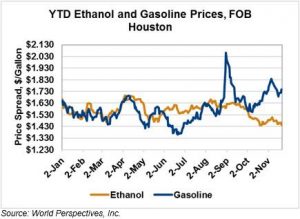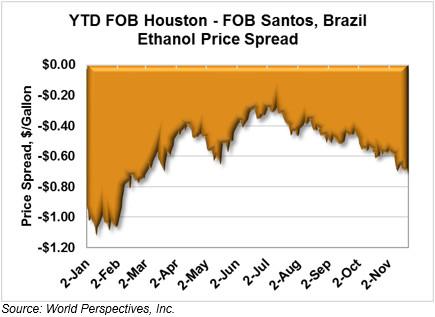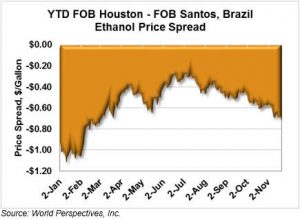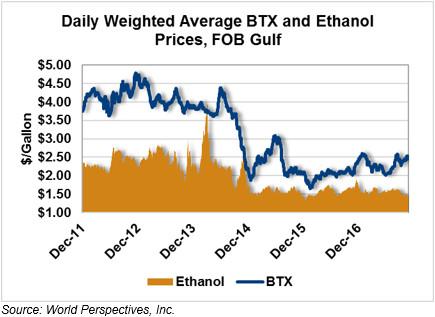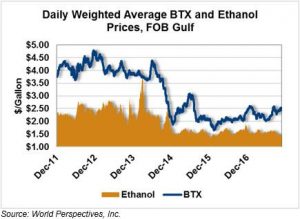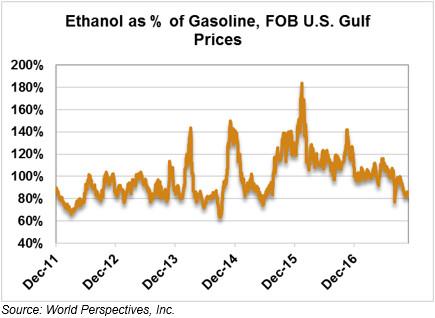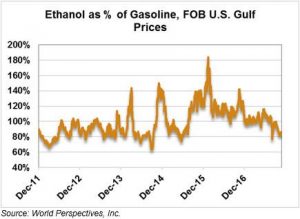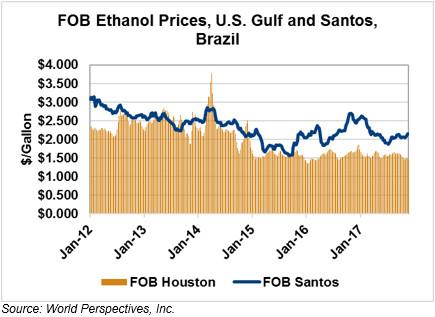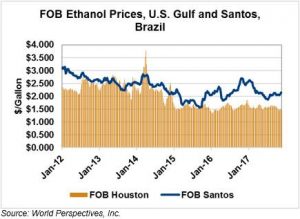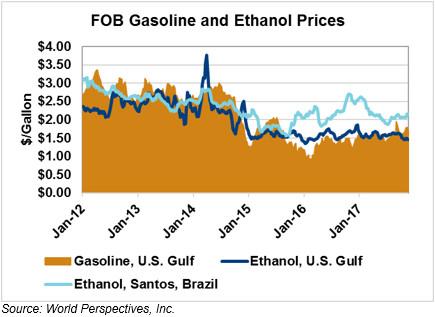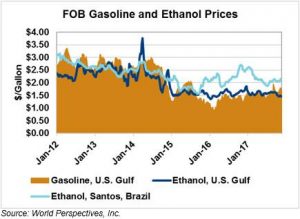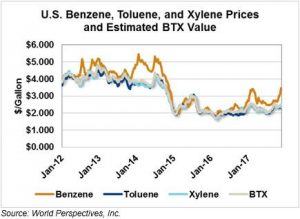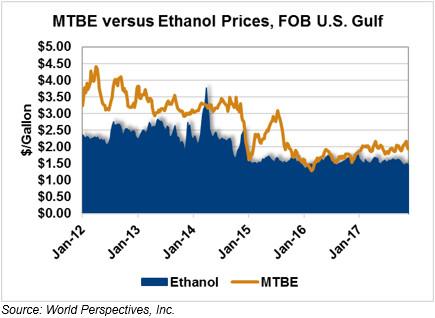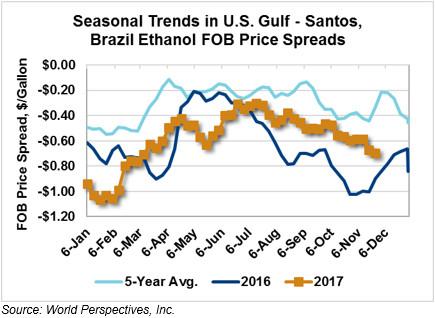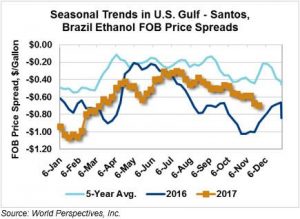 Price Database: If you are interested in historical price data, please click here.