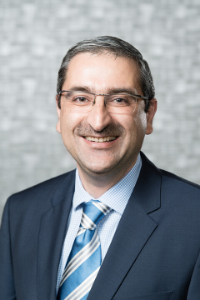 The U.S. Grains Council's (USGC's) Ramy H. Taieb, regional director for Europe, the Middle East and Africa (EMEA), was recognized for five years of service to the organization at the 19th International Marketing Conference and 62nd Annual Membership Meeting in February.
With the support of his team, Taieb has worked on countless projects over the years that have gone on to build partnerships with many in the region.
"Thanks to an effective, supportive, enthusiastic and dynamic team, the EMEA office has been able to switch from exploring short-term market opportunities to building long-term partnerships with USGC counterparts in the region. Some of those opportunities include the starch and storage program for U.S. corn; the feed training center in Tunisia; and the Poultry Center of Excellence in Morocco, among others," Taieb said.
Taieb began working with the Council on Jan. 1, 2017. The idea of working with consultants across many countries to promote U.S. grains exports attracted Taieb to the position.
One of Taieb's most memorable experiences happened early on in his time with the Council on a trip to the U.S.
"Four years ago, I was escorting a team from the Middle East to New Orleans to meet with USGC members and suppliers of corn and corn co-products. However, due to an emergency, I spent the night at the hospital and conducted my meeting with the U.S. supplier there until 2 a.m.," Taieb said. "I confirmed that business and five stiches in the forehead."
When asked what he enjoys the most about his job, Taieb focused on meeting USGC counterparts.
"It's a big family working together and juggling multiple agendas, priorities and an ever-expanding list of creative programs and initiatives."
Outside of work, Taieb enjoys traveling, discovering new destinations, customs and cultures and meeting new people.
Please join the Council in congratulating Ramy on reaching this milestone in his career!
About The U.S. Grains Council
The U.S. Grains Council develops export markets for U.S. barley, corn, sorghum and related products including distiller's dried grains with solubles (DDGS) and ethanol. With full-time presence in 28 locations, the Council operates programs in more than 50 countries and the European Union. The Council believes exports are vital to global economic development and to U.S. agriculture's profitability. Detailed information about the Council and its programs is online at www.grains.org.