The state of Iowa was well-represented at the U.S. Grains Council's (USGC) 19th International Marketing Conference and 62nd Annual Membership Meeting in February, as a trio of representatives from the Iowa Corn Promotion Board (ICPB) were honored for their half-decade of membership with the Council.
Kelly Nieuwenhuis, Jerry Maier and Stan Nelson were celebrated for their continuing contributions to the Council's mission of developing markets, enabling trade and improving lives.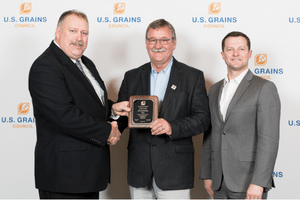 Nieuwenhuis is the president of the ICPB and operates a 2,800-acre corn and soybean farm with his two brothers. An interest in global trade led him to the Council, where he has been able to engage with the agricultural industries of other countries as a member of the Ethanol Advisory Team (A-Team).
"We need the U.S. Grains Council to make the connections and have its offices around the world," Nieuwenhuis said. "Importers like to meet and get to know the people they're dealing with, and I don't see how we could do that without the Council."
Nieuwenhuis encourages other growers to get involved in not only their local farming communities, but to look outwardly for national and global opportunities to make a positive impact on U.S. export markets.
"I'm just a family farmer who chose to get involved," Nieuwenhuis said. "It's so important for farmers to have a voice, and I truly believe more of them should be involved in commodity organizations to promote what they produce."
Jerry Maier is the district two representative on the ICPB and operates a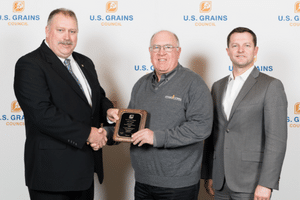 1,000-acre corn and soybean farm in northern Iowa. He has contributed to the Asia A-Team as well as the Innovation and Sustainability A-Team during his time with the Council.
Spreading the word about what the Council does for American farmers has been an important goal for Maier since he started learning more about its mission and services.
"A lot of our fellow farmers think that a foreign country just calls a farmer in Iowa to order 10 million metric tons of corn," Maier said. "They don't realize that there are a lot of steps to get to that point."
Maier added that his participation with the Council has encouraged him to get his two sons involved in commodity organizations to further the development of his farm.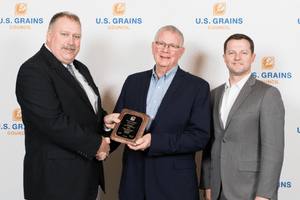 Like Maier, Nelson also got an early start in collaborative associations as a young grower in Iowa. He hails from the ICPB's ninth district and is currently a member of the Trade Policy A-Team. Nelson joined the Young Member Committee of the Iowa Farm Bureau 40 years ago, and he has continued to be active in various groups since then.
Passing along solid information and the feelings of his fellow farmers to other collaborators at the Council has been a focal point for him since he joined the Council.
"We all have strengths and weaknesses and I like to share perspectives with the people I meet when we're talking about the markets," Nelson said. "That's an opportunity for me to talk with them about what Iowa Corn and the Council are doing. There are a lot of moving parts in this industry."
The Council thanks Kelly, Jerry and Stan for their service to the organization for the past five years and for many more to come!
About The U.S. Grains Council
The U.S. Grains Council develops export markets for U.S. barley, corn, sorghum and related products including distiller's dried grains with solubles (DDGS) and ethanol. With full-time presence in 28 locations, the Council operates programs in more than 50 countries and the European Union. The Council believes exports are vital to global economic development and to U.S. agriculture's profitability. Detailed information about the Council and its programs is online at www.grains.org.