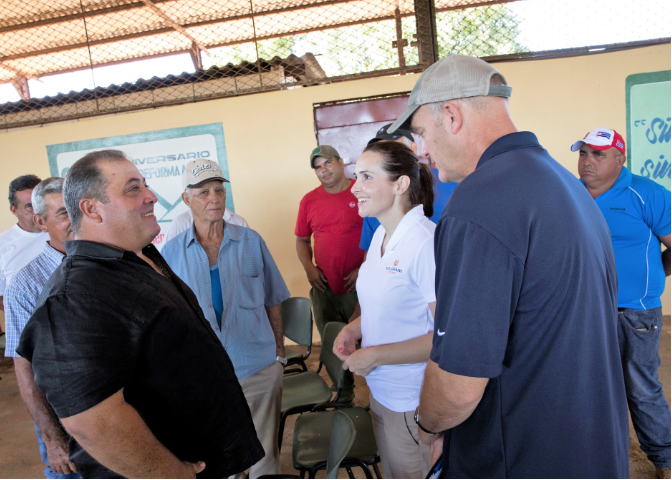 Huge potential remains for U.S. agricultural exports to Cuba, including corn, sorghum, barley and their co-products, but so do steep trade challenges, U.S. Grains Council staff learned on a recent industry mission to the country.
Council staff from the Western Hemisphere office participated this month in the Cuba and U.S. Agriculture Business Conference in Havana to learn more about current U.S. export and import policies regarding Cuba, investing in Cuban agricultural production and creating a viable and long-term trade relationship between the two countries. The three-day conference endeavored to increase sales of U.S. agricultural commodities and boost cooperation.
The Council has been involved with Cuba many times over the years, sending a delegation to the island nation as recently as 2015 to examine the market potential for the U.S. grain trade and the financing possibilities the U.S. could offer the country.
The recent mission continued this outreach focused on ag trade. Taking a page from U.S. companies already successfully doing business in Cuba, including Marriott and Jet Blue, meeting attendees pooled their knowledge and know-how to better understand the political and commercial situation to find ways to facilitate U.S trade to Cuba. Comprised of Cuban agribusiness leaders and farmer cooperatives and members of the U.S. ag sector – including corn, soybean, wheat, rice, poultry and potato industries – the mission participants had high hopes to begin to hash out the barriers between the two countries.
"There are no easy answers in Cuba," said Catalina Correa, U.S. Grains Council regional marketing specialist, Western Hemisphere, who attended the conference, "yet the soil is prepared for greater discussion in how to make the way to higher economic development despite the political realities of both countries.
"There is momentum. Particularly with trade disputes in other regions of the world, U.S. ag producers are searching for other markets, and ones that once seemed too challenging to surpass, like Cuba, now have greater promise."
According to the U.S.-Cuba Trade and Economic Council, the United States has sold $5.7 billion in food and feed to Cuba since 2000, when an amendment to the trade embargo allowed agricultural sales for cash. U.S. farmers and agribusinesses would like to expand the market, but because the Cuban government is not allowed to make purchases on credit, there are still barriers to getting food and feed grains to the country of 11.4 million people.
Despite this hurdle, the market is expected to offer significant opportunities for U.S. farmers with marketing year 2018/2019 import estimates of a million metric ton (39.3 million bushels) of corn annually, mainly from Argentina. If U.S. farmers could capture that market share, Cuba would be the 12th largest importer of U.S. corn and would also have the potential to increase its usage of U.S. distiller's dried grains with solubles (DDGS) and other grains.
It's not just the credit issue that's causing issues in Cuba, and it's not just sales that are the main driver of U.S. interest. The humanitarian consideration of malnutrition is a reality for the population of the island nation.
There is an established need for animal ag industries including broilers, eggs and beef, and this trip offered the opportunity for discussion about these needs between U.S. and Cuban farmers.
"Today, Cubans aren't getting enough protein," Correa said. "The average Cuban eats only four eggs per month. Milk is only accessible to infants until they reach the age of two. Malnutrition is their daily concern. The embargo touches the lives of every Cuban; it affects all aspects of their lives."
Maintaining a consistent dialogue with Cuba is an important part of the Council's programs with the country's ag sector.
USGC President and CEO Tom Sleight also recently met with the new president of Cuba, Miguel Diaz-Canel, in New York City in conjunction with the U.S. General Assembly meeting.
"In many ways, meeting President Diaz-Canel reminded me of the early days of the reopening of the Cuban market back in the late 1990s," Sleight said. "President Diaz-Canel was open and affable. The barriers to expanded U.S. trade are considerable, yet the desire on both sides to keep talking was sincere."
Click here for more information on USGC's work with Cuba.
About The U.S. Grains Council
The U.S. Grains Council develops export markets for U.S. barley, corn, sorghum and related products including distiller's dried grains with solubles (DDGS) and ethanol. With full-time presence in 28 locations, the Council operates programs in more than 50 countries and the European Union. The Council believes exports are vital to global economic development and to U.S. agriculture's profitability. Detailed information about the Council and its programs is online at www.grains.org.