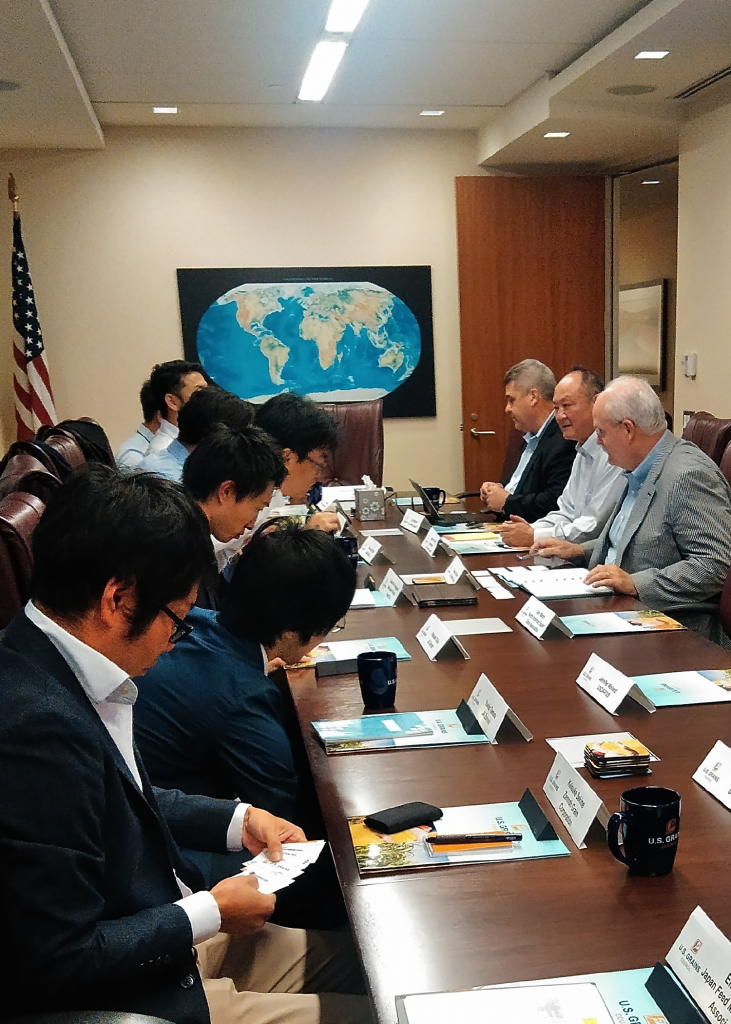 Procurement and quality assurance officials from four Japanese commercial feed millers visited the Council's headquarters office in Washington, D.C., late last month for an annual corn quality information exchange meeting.
In addition to Council staff, representatives from the U.S. Department of Agriculture's Federal Grain Inspection Service (USDA's FGIS) and North American Export Grain Association (NAEGA) participated.
"This annual quality meeting is important to show appreciation for our Japanese customers," said Tommy Hamamoto, USGC director in Japan. "Even though Japanese industry officials noted the presence of rocks, dust and low protein as issues for U.S. corn, they did not seem to have to point out serious issues such as mycotoxins and noted they were generally satisfied with the quality of U.S. corn."
Earlier this year, the Council received reports of stones the size of corn kernels in shipments to Japan, which had to be picked out by hand because they could not be removed by sieves before going to roller mills.
The report served as an important reminder of how foreign material – including non-grain plant materials and other objects – inadvertently mixed with corn cargoes can undermine the reputation of U.S. grains. The U.S. grain supply chain as a whole must continue to pay attention to good handling practices, from seed development and equipment design to storage and transportation.
"It is important to hear the Japanese industry's concerns, like the presence of rocks, to maintain the level of confidence in U.S. corn," Hamamoto said. "In that regard, it is especially important to continue this annual meeting, even in years where there are no specific quality concerns."
USGC staff in Japan and other markets globally talk regularly with customers about quality to hear their perspectives and share information about the U.S. grading and export systems.
Japan ranked as the second largest buyer of U.S. corn in 2016/2017, increasing imports nearly 30 percent year-over-year to the highest levels in nearly a decade at 13.5 million tons (nearly 533 million bushels). Japan also nearly doubled U.S. sorghum purchases to 183,000 tons (7.19 million bushels), the third largest buyer.
Learn more about the Council's work in Japan here.
About The U.S. Grains Council
The U.S. Grains Council develops export markets for U.S. barley, corn, sorghum and related products including distiller's dried grains with solubles (DDGS) and ethanol. With full-time presence in 28 locations, the Council operates programs in more than 50 countries and the European Union. The Council believes exports are vital to global economic development and to U.S. agriculture's profitability. Detailed information about the Council and its programs is online at www.grains.org.