This February at the 20th International Marketing Conference and 63rd Annual Membership Meeting, three U.S. Grains Council (USGC) staff members were recognized for their five years of service to the organization: Mohamed Salah Bouthour, Alejandra Danielson Castillo and Yantian Zeng.
Mohamed Salah Bouthour, USGC assistant regional director for Africa, began his work with the Council as a marketing specialist in the region, finding himself fascinated by the complexity and diversity of the job position, particularly when it came to trade servicing and market analysis within a complex region like Europe, the Middle East and Africa.
Over the years, Bouthour's work with the Council and his job title have changed.
"At the start of my time with the Council in 2017, I had to manage several programs simultaneously, including the Unified Export Strategy (UES) document for the region, setting up the Corn Quality Seminar in Tunisia and building the Feed Training Center through a grant received from the U.S. State Department. We have since established the Center for Feed Manufacturing in Tunisia, which has engaged feed mill operations and livestock producers in the Tunisian poultry, ruminant and aquaculture sectors in extensive training programs with a goal to improve overall feed manufacturing in Tunisia," Bouthour said.
"In April 2022, I was promoted to assistant regional director for Africa. Within the new position, I am contributing to the formulation of a strategic plan for increasing sales of corn, barley, sorghum and their co-products in the region, while also developing strategies and identifying all relevant trade, technical and policy-related factors to building and maintaining the market for U.S. feed grains and co-products in Africa."
Looking back at his time with the Council, Bouthour had several favorite memories.
"Being able to witness the first shipment of corn co-products to West Africa is one of my best memories from working with the Council. I would also like to highlight the opportunity I've had to work closely with West African feed manufacturers, allowing me to feel comfortable when dealing with partners and creating close ties and relationships with local feed players within region."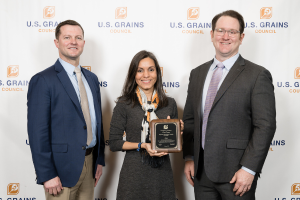 Like Bouthour, the Council's work attracted Alejandra Danielson Castillo to her first role with the Council.
"I had been working on trade execution for seven years, learning all about the logistics and movement of grain from the interior to export terminals to customers' warehouses. When the opportunity for manager of global trade opened at the Council, it just seemed I could use this knowledge in a different way. I had also learned about the organization from a colleague and was intrigued by the work of the Council. I liked the idea of working in grain, outside of an operational role, and the role allowed me to work on multiple projects before I landed in my current position," Danielson Castillo said.
Since then, Danielson Castillo has worn many hats at the Council, acting as manager of global trade, South Asia regional director and now the director of global programs in the Washington, D.C., office.
Following her background at the Council, one could guess her favorite memory:
"Opening an office in India! It was an almost five-year project that ebbed and flowed. Learning all the legal intricacies of several governments to picking real estate for the physical space where the office is situated to picking furniture and color schemes for the walls, I have never done something at this scale nor had to open an office from scratch. It is humbling to know I have contributed to the legacy of the Council for years to come – and in the process, I learned a lot! I have met incredible people, been challenged on almost every aspect, have questioned every decision (big or small) at least three times, have argued and learned to negotiate, been rewarded with friendships and memories I will carry with me forever. It has been the experience of a lifetime," Danielson Castillo said.
The Council also recognized Yantian Zeng, USGC program manager in China, who was unable to attend the February meeting in Savannah, Georgia. Before starting her role at the Council, Zeng worked with a close industry partner, the U.S. Soybean Export Council (USSEC).
"My previous six years of experience with USSEC enabled me to build a good relationship with the growers and the ag industries both in the U.S. and China. The position in USGC's Beijing office overlooking a portfolio of the different commodities allowed me, on the one hand, to continue to work with the same sector and same nice people; and on the other hand, to approach new commodities. It enabled me to have better and more complete understanding of U.S. ag business and to better serve the ag trade between the U.S. and China."
Throughout her time as program manager, Zeng has found creative ways to enhance her job.
"Being a program manager, I originally worked very heavily on promoting corn, sorghum and DDGS. I organized trade teams, one-on-one customer visits and meetings, industrial conferences and helped to bridge information between exporters and buyers. I later took the initiative to set up the official Wechat (a form of social media) account of the Beijing office to promote the USGC weekly market perspectives report. Additionally, I have started to take more roles in programs, even hosting some meetings. I also have more opportunities to create new programs to meet the potential needs of the market," Zeng said.
Please join us in celebrating these three Council staff members as they each mark five years of developing markets, enabling trade and improving lives!
About The U.S. Grains Council
The U.S. Grains Council develops export markets for U.S. barley, corn, sorghum and related products including distiller's dried grains with solubles (DDGS) and ethanol. With full-time presence in 28 locations, the Council operates programs in more than 50 countries and the European Union. The Council believes exports are vital to global economic development and to U.S. agriculture's profitability. Detailed information about the Council and its programs is online at www.grains.org.