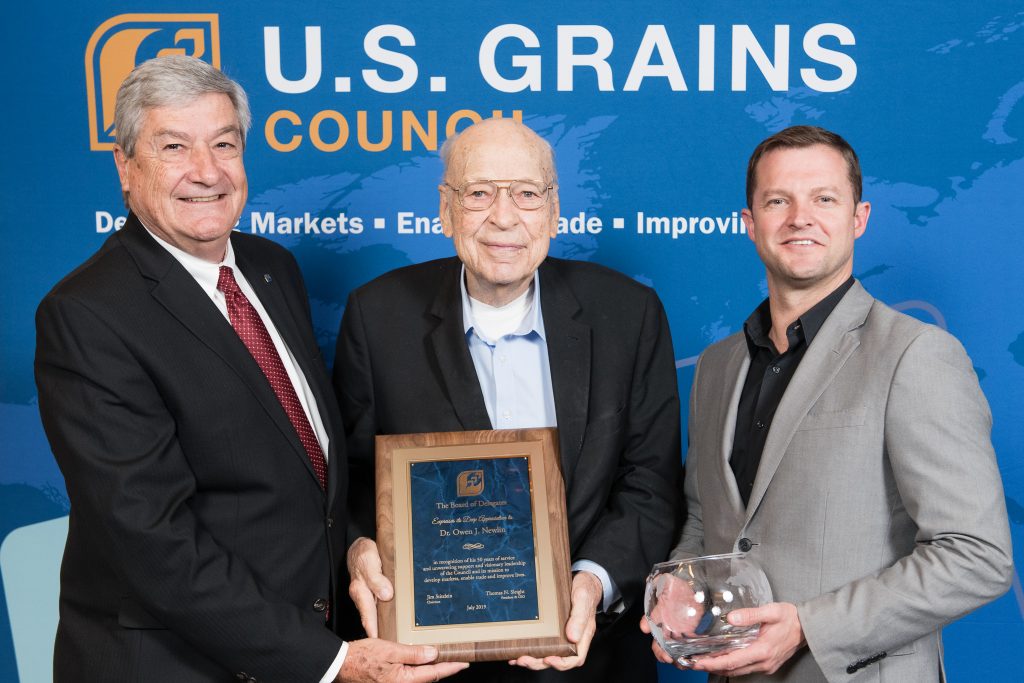 Dr. Owen J. Newlin has contributed to tremendous change in the U.S. Grains Council (USGC) during his 50 years of involvement, playing an instrumental role in raising funds to support ballot initiatives to create state corn checkoff programs, initiating Pioneer's overseas mission to educate future farmer leaders and defending the U.S. Department of Agriculture's Foreign Market Development (USDA's FMD) program during numerous farm bill negotiations.
The Council recognized Newlin for his golden milestone working with the organization during its 59th Annual Board of Delegates Meeting earlier this year in Cincinnati, Ohio.
"The Council helps create markets for U.S. corn and other grains, helping farmers and agribusinesses be more successful," Newlin said. "My whole motivation over the years has been working to help make farmers and agribusiness companies more secure so they can continue to help feed the world."
Newlin joined Pioneer Hi-Bred International, Inc. (now part of Corteva Agriscience) in 1955 as a research assistant, becoming production manager and then division president before serving as senior vice president with responsibility for the finance, information management, human resources and seed production operations of Pioneer's North American operations.
Pioneer was represented on the Council from the organization's very first meeting in 1960. Less than a decade later, Newlin became the company's official delegate. He would serve on the USGC Board of Directors and as the Council's chairman from 1978-1979.
When Newlin joined the Council, funding came primarily from agribusiness members like Pioneer. To expand the Council's work, Newlin and others recognized the need to increase funding and draw in new members representing corn farmers. In 1977, these efforts culminated with a successful mail-in ballot referendum in Iowa by the Iowa Corn Growers Association, following two previously unsuccessful campaigns. This success created a corn checkoff that contributed one-tenth of a cent per bushel to the Iowa Corn Promotion Board. Newlin also supported funding for similar referendums in Illinois, Minnesota, Missouri, Wisconsin and Ohio in addition to three failed referendums in Indiana.
"The passing of the Iowa corn checkoff really turned the tide and other states followed," Newlin said. "The corn checkoff programs fundamentally changed the Council, bringing additional funding from new members. Today, the Council benefits from producers and agribusinesses working together."
Newlin also helped start the Pioneer Fellows Leadership Program, which gave growers invaluable first-hand experience and exposure to the international marketplace. In turn, those growers became advocates for exports and leaders in their states and national organizations, including the Council.
"My motivation has to do with helping make sure that farmers have a strong economic base," Newlin said. "Those missions convinced farmers that the work of the Council was important. Once they saw it firsthand, they became convinced."
Today, Newlin helps support the USDA's FMD program through the Agribusiness Coalition for Foreign Market Development, which has helped renew and protect this program in farm bill negotiations.
The culmination of his contributions to the U.S. grains industry has been profound and his work is not yet over.
About The U.S. Grains Council
The U.S. Grains Council develops export markets for U.S. barley, corn, sorghum and related products including distiller's dried grains with solubles (DDGS) and ethanol. With full-time presence in 28 locations, the Council operates programs in more than 50 countries and the European Union. The Council believes exports are vital to global economic development and to U.S. agriculture's profitability. Detailed information about the Council and its programs is online at www.grains.org.