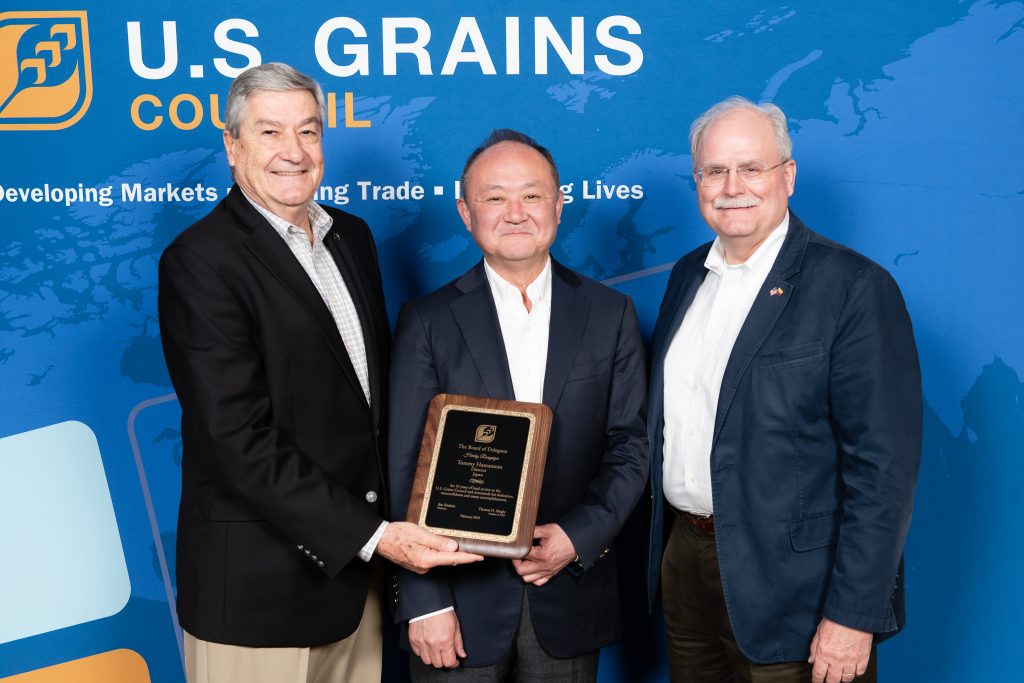 U.S. Grains Council (USGC) Director in Japan Tommy Hamamoto has exemplified how consistency – and versatility – are needed to develop long-term and lasting markets throughout his tenure working on behalf of U.S. farmers and agribusinesses.
The Council recognized Hamamoto for 10 years of service during the organization's 16th International Marketing Conference and 59th Annual Membership Meeting earlier this year.
"Tommy has represented the Council with great honor and distinction over the past 10 years," said Tom Sleight, USGC president and chief executive officer. "He has worked through many challenging times in Japan – from biotech to trade policy to grain quality to ethanol."
A wet lab biochemist by training, Hamamoto had worked with the Council in Japan, mainly on biotechnology regulations, before joining the organization as the country director.
"As I had worked with cooperators as a local specialist with the U.S. Department of Agriculture's Foreign Agricultural Service (USDA's FAS), I always saw their jobs as a bridge between U.S. suppliers and Japanese users," Hamamoto said.
Once he joined the organization, Hamamoto realized he still had much to learn despite his familiarity with the Council. A decade later, he is an expert in promoting U.S. feed grains and co-products to one of the largest U.S. trading partners.
"One of my main roles during the last 10 years has been to keep Japanese corn users comfortable using U.S. corn," Hamamoto said, citing the effectiveness of publications like the annual corn quality reports and efforts like the annual corn quality seminars. "Now they understand that we cannot totally control the quality, but we, the U.S. corn industry, are always here as a transparent and reliable corn supplier."
Hamamoto took on the challenge of promoting U.S. ethanol in 2015, working with a completely different set of stakeholders with whom he was unfamiliar. However, he successfully adapted and played a pivotal role as the Council worked with the Japanese government as they revised biofuels policy, opening the door to imports of ETBE (ethyl tert-butyl ether) produced from U.S. corn-based ethanol.
Hamamoto has also spearheaded food sorghum and food barley promotional efforts in Japan, successes he said he will never forget. His staff nicknamed him Dr. Sorghum for his efforts.
"His adaptiveness, creativity and professionalism have been stellar and exemplary," Sleight said. "Whenever I talk about how USGC international directors adapt to changing market conditions, I often use Tommy as an example."
Throughout the years, Hamamoto said he has enjoyed working with his Council colleagues around the world as well as the farmer members that always have something to teach him.
"I have no farm experience nor background, but they tell me about soil, equipment weather and families," Hamamoto said. "Everything is new to me. I cannot wait to talk to them more at Council meetings and during visits to their farms with my customers."
About The U.S. Grains Council
The U.S. Grains Council develops export markets for U.S. barley, corn, sorghum and related products including distiller's dried grains with solubles (DDGS) and ethanol. With full-time presence in 28 locations, the Council operates programs in more than 50 countries and the European Union. The Council believes exports are vital to global economic development and to U.S. agriculture's profitability. Detailed information about the Council and its programs is online at www.grains.org.