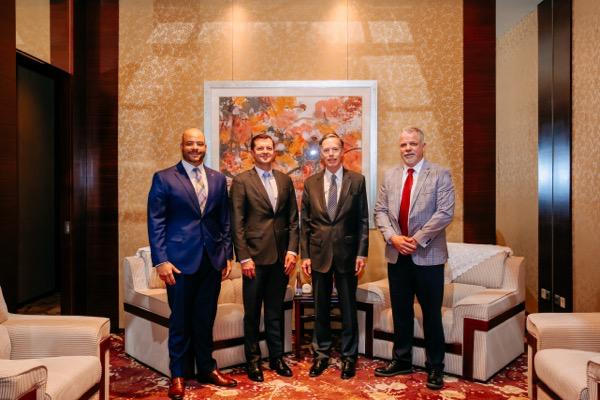 Earlier this month, U.S. Grains Council (USGC) President and CEO Ryan LeGrand visited China for the first time since the beginning of the COVID-19 pandemic. LeGrand's visit allowed him to see firsthand the work being done by the Council's office in Beijing in addition to meeting with industry representatives and governmental officials in the country.
"It was great to be back in China for the first time since late 2019," LeGrand said. "Demand for grain and feed remains robust in China and our staff is working to ensure the United States can capture a share of that demand."
LeGrand met with COFCO, a Chinese state-owned food processing holding company, and the National Food and Strategic Reserves Administration (NFSRA) to discuss current grain trade and USGC activities in China; took part in an informational session on China's impact on trade; celebrated the 20th anniversary of the Beijing Agricultural Trade Office, where he had the opportunity to meet with the U.S. Ambassador to China Nicholas Burns; and also met with Council agribusiness members represented in the country.
"I expect to return to China this year to continue exploring opportunities for U.S. feed grains and ethanol," LeGrand said. "Trade in agriculture is a bright spot in the difficult relationship that exists between the U.S. and China, and we will look to further this mutually beneficial aspect of our relationship."
The Council has had a presence in China for more than 40 years, opening its office in Beijing in 1982. The country has consistently been a top trading partner for U.S. grains in recent years, coming in as the second-largest market for grains in all forms in the 2021/2022 marketing year. As the market reopens to visitors, the Council looks forward to sending groups on missions to China while also welcoming trade teams back to the United States soon.
About The U.S. Grains Council
The U.S. Grains Council develops export markets for U.S. barley, corn, sorghum and related products including distiller's dried grains with solubles (DDGS) and ethanol. With full-time presence in 28 locations, the Council operates programs in more than 50 countries and the European Union. The Council believes exports are vital to global economic development and to U.S. agriculture's profitability. Detailed information about the Council and its programs is online at www.grains.org.