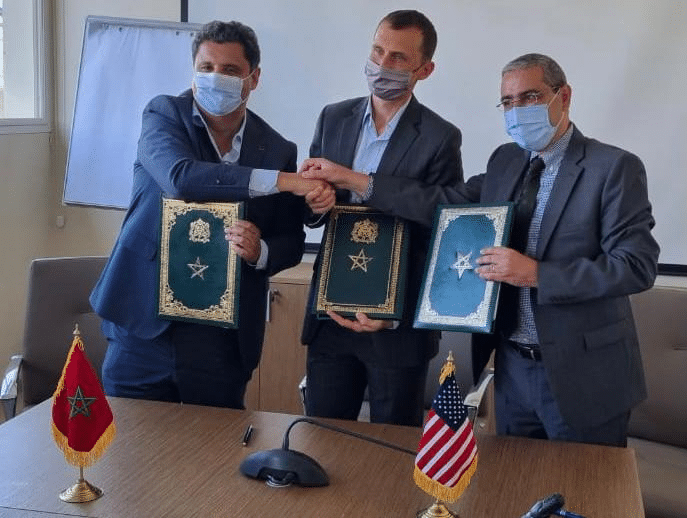 To demonstrate the U.S. Grains Council's (USGC's) investment in the Moroccan poultry and aquaculture sectors, USGC representatives signed two memorandums of understanding (MOUs) last week with Moroccan counterparts.
The first signing took place between the Foreign Agricultural Service (FAS) of the U.S. Department of Agriculture (USDA), the Council, and the Moroccan Poultry Association (FISA), outlining a three-year project to overcome weaknesses in the Moroccan poultry processing and distribution system.
"Currently, 90 percent of Moroccan poultry is distributed through small, informal markets in urban centers, while only 10 percent moves through modern, hygienic slaughterhouses with well-developed cold chain distribution systems," said Ramy Taieb, USGC regional director for the Middle East and Africa. "The goal of this project is to establish small and medium-sized poultry processing facilities that abide by modern health and safety standards that will replace these outdated, informal markets. This will increase consumer confidence in poultry meat and result in significant growth in consumer demand and poultry sector growth."
The Council recently received a USDA grant to promote the development of the aquaculture industry in Morocco, and the second MOU signing signaled the beginning of this project.
"The Council has had a long-term commitment to developing the markets in Morocco, dating back to 1995 when the Council first began working on expanding the poultry industry through the formation of a producer association, FISA," said Kurt Shultz, USGC's senior director of global strategies. "The free trade agreement between the U.S. and Morocco and the evolution of the poultry and feed industries have also allowed the Council to introduce new feed grains to the market beyond just relying on corn, including distiller's dried grains with solubles (DDGS), corn gluten feed and corn gluten meal."
Morocco, a middle-income country of more than 35 million people, has become a growing market for feed grains. The Council has been present in the Moroccan market for more than 25 years, during which time the market has changed dramatically with the adoption of modern livestock management systems. As the Moroccan livestock sector grows, new opportunities for U.S. feed grains in the region will emerge, benefiting U.S. grain producers, suppliers and exporters, as well as the U.S. agricultural industry more broadly.
About The U.S. Grains Council
The U.S. Grains Council develops export markets for U.S. barley, corn, sorghum and related products including distiller's dried grains with solubles (DDGS) and ethanol. With full-time presence in 28 locations, the Council operates programs in more than 50 countries and the European Union. The Council believes exports are vital to global economic development and to U.S. agriculture's profitability. Detailed information about the Council and its programs is online at www.grains.org.