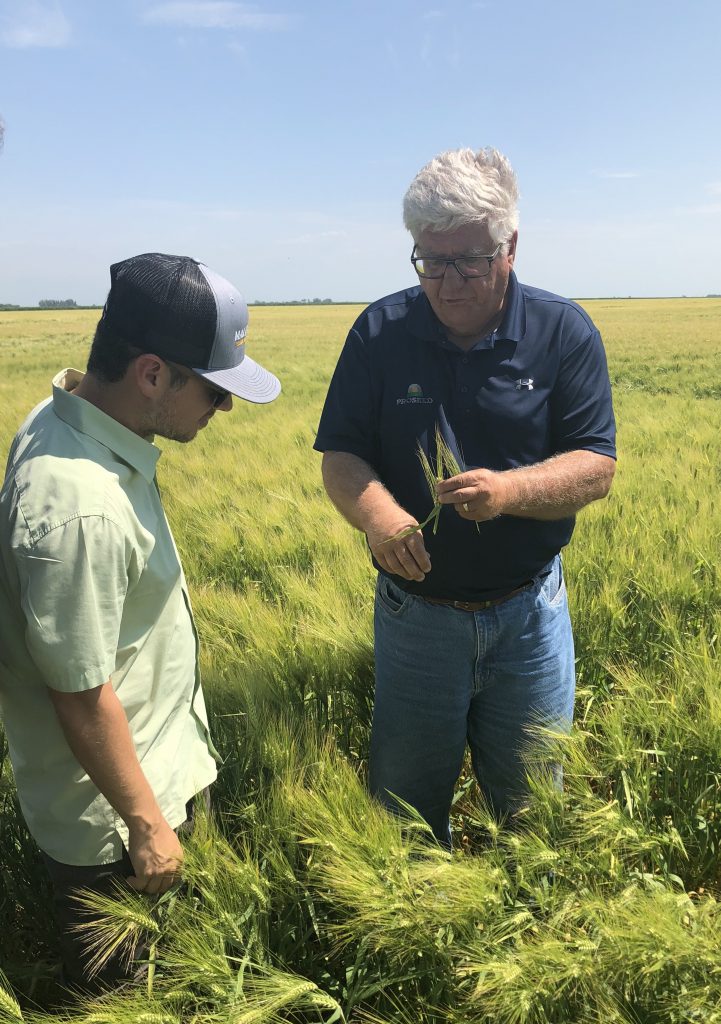 The U.S. Grains Council (USGC) is helping ensure pints of Mexican craft beer remain equally satisfying on both ends of the tap through market development activities like a trade team in July that brought Mexican craft brewers to meet directly with U.S. barley farmers and malting facilities.
"Mexican breweries are making substantial investments in new brewing, malting and bottle manufacturing plants," said Javier Chavez, U.S. Grains Council (USGC) Mexico marketing specialist. "The growth and investment in this industry represents additional demand for U.S. malted barley and barley for malt."
Although representing much smaller demand than the larger breweries, craft brewing is growing exponentially each year in Mexico. As early starters in this market begin selling their brands through supermarkets, and smaller breweries carve out market niches in specialized craft beer bars and upscale restaurants, the craft brewing industry needs to learn how to sustain their own growth.
The Council is assisting Mexican breweries of all sizes with sourcing one of their most important ingredients – high-quality malt produced from U.S. barley. As part of this effort, the Council brought five representatives from growing craft breweries in Tijuana to North Dakota and Montana in July to learn more about the U.S. barley production and malting industries.
The team visited five craft breweries to learn how their U.S. counterparts handle procurement, quality and inventory management. The team also met with the North Dakota Barley Council, the Montana Wheat and Barley Committee and malt industry representatives to discuss opportunities for direct purchasing.
"Mexican craft brewers came to learn how barley is produced and how the malting process works," Chavez said. "Seeing firsthand how malt is procured, managed and stored in bins helped the team conclude that to grow as a brewer, they need to seek ways to become more competitive."
"These craft brewers can accomplish this goal by dealing directly with malt producers and building the resources needed to bring U.S. barley more efficiently into their breweries – communal bins, buyer groups and other volume purchasing strategies that result in better opportunities for price and credit."
One of the brewers from a previous mission has put the lessons learned into action. He first traveled to barley country four years ago on a similar trade team visit. Based on connections made during the mission, he became a distributor for an international malting house. He has also increased his own beer production from three million liters (793,000 gallons) monthly to 40 million liters (10.6 million gallons) monthly.
The trading terms laid out in the North American Free Trade Agreement (NAFTA) help make successful trading relationships like this one possible. Prior to NAFTA, Mexico set base tariffs for barley and malt at 128 percent and 175 percent, respectively.
When it came into force, the agreement provided immediate duty-free access for 120,000 metric tons (5.51 million bushels) of U.S. barley into Mexico, with remaining tariffs eliminated over the first 10 years of the agreement. Now, U.S. barley and malt enter Mexico duty-free, making them an attractive option for beer makers who depend on malt and malt barley imports due to the lack of malting capacity in Mexico.
However, this quota and tariff system was also removed for competing supplies from Europe in 2017, making NAFTA's duty-free access not just a selling point, but a necessity for U.S. barley and malt to remain competitive in the Mexican beer market.
"The competition combined with uncertainty due to NAFTA negotiations have opened the market to new players," Chavez said. "The Council has worked hard to establish U.S. malting barley as a competing and superior product for craft brewers and large breweries alike."
Mexico's beer sector is expected to continue its aggressive growth, and the Council is working to ensure U.S. barley farmers are the ones to supply the barley they need to keep their beer brewing.
Learn more about the Council's work on barley exports to Mexico here.
About The U.S. Grains Council
The U.S. Grains Council develops export markets for U.S. barley, corn, sorghum and related products including distiller's dried grains with solubles (DDGS) and ethanol. With full-time presence in 28 locations, the Council operates programs in more than 50 countries and the European Union. The Council believes exports are vital to global economic development and to U.S. agriculture's profitability. Detailed information about the Council and its programs is online at www.grains.org.