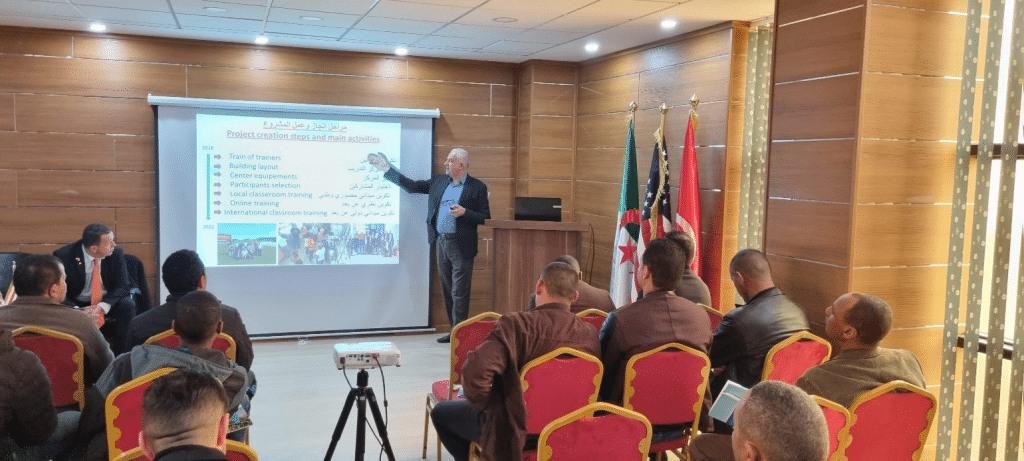 The U.S. Grains Council's (USGC's) Middle East/Africa (MEA) office hosted an in-person distiller's dried grains with solubles (DDGS) seminar in Oran, Algeria, this March. The Council worked with one of its Algerian partners, Nutrimag, to host the event.
Today, U.S. corn co-products can provide a good alternative to reduce feed diet cost of production and improve overall quality. Through programs like this one, the Council aims to expand DDGS use in the Algerian dairy industry by addressing market constraints that limit expansion in the industry.
Leading the Council's engagement there, Mohamed Salah Bouthour, USGC assistant regional director-Africa for the MEA region, and three instructors from the Regional Feed Training Center in Tunisia highlighted the financial and nutritional benefits of corn co-products in feed diets.
More than 70 livestock farmers from the country attended the workshop over two and a half days to discuss U.S. corn co-products supply and demand fundamentals, followed by a presentation by Dr. Taha Najjar, a professor of feed nutrition at the National Institute of Agronomy in Tunisia, on the benefits of using DDGS in ruminant diets and how to maximize DDGS inclusion rates and profitability.
To curb the decline of the Algerian economy, the government increased duties in 2016 to make up for a shortfall in the budget. The Algerian government assigned import duties and value-added taxes (VAT) on all feed ingredients. The duties on DDGS and corn gluten feed (CGF) are set at 30 percent and 19 percent respectively with no VAT, while the duties on corn and soybean meal are only five percent, making corn co-products less competitive with soybean meal and other feed ingredients.
The feed market in Algeria accounts for roughly six million metric tons (MMT), or 232 million bushels, of compound feed. However, the ruminant feed industry accounts for 25 percent of the total feed production and is growing quickly due to government policy to improve and enhance local dairy and red meat production.
"The U.S. Grains Council is promoting the benefits of DDGS use, a more cost-effective solution. This approach demonstrates to Algerian farmers that they can increase performance while decreasing cost," Bouthour said. "The Council will continue working with its private and public industry partners in Algeria to align the import duty on DDGS and CGF with import duties of corn, soybean meal and other similar feed ingredients."
About The U.S. Grains Council
The U.S. Grains Council develops export markets for U.S. barley, corn, sorghum and related products including distiller's dried grains with solubles (DDGS) and ethanol. With full-time presence in 28 locations, the Council operates programs in more than 50 countries and the European Union. The Council believes exports are vital to global economic development and to U.S. agriculture's profitability. Detailed information about the Council and its programs is online at www.grains.org.