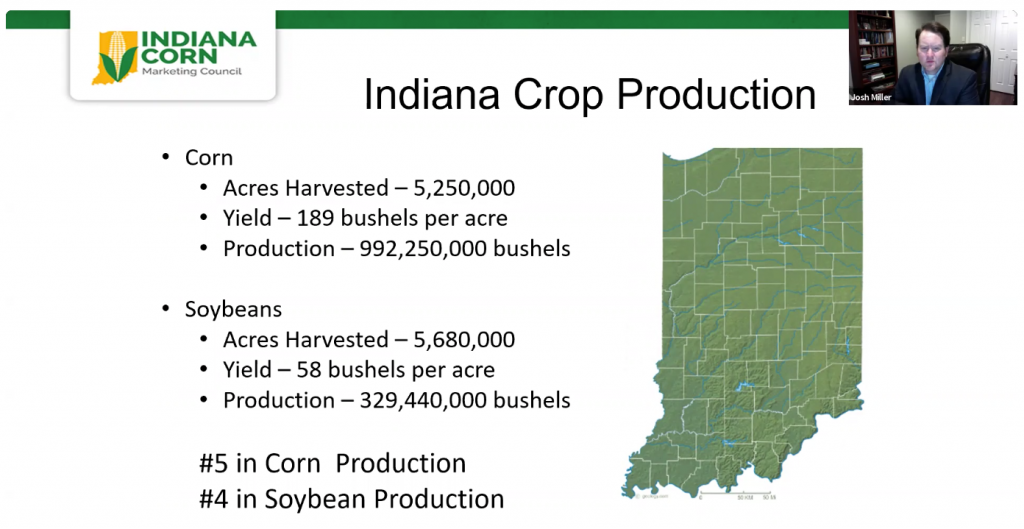 Staff members and consultants at the U.S. Grains Council (USGC) are engaging with grains customers and end-users around the world this winter through a series of virtual events focused on grain quality and availability. Armed with the results of the 2020/2021 Corn Harvest Quality Report, the first event in this series was held Dec. 11 through a webinar hosted by the Council team in Southeast Asia.
"The quality of U.S. corn is highly important for those stakeholders responsible for purchasing decisions for feed corn and corn for food and industrial uses," said Kyle Gilliam, USGC manager of global strategies and trade. "The report's results are used by the Council worldwide to discuss crop quality and growing conditions with buyers to demonstrate the continued reliability of U.S. corn."
In addition to the corn harvest report, the Southeast Asia staff also included an update on the latest World Agricultural Supply and Demand Estimate (WASDE), a comprehensive supply and demand forecast for major commodities used by traders, farmers and corn processors as an indicator of potential corn prices.
Nearly 130 participants from Southeast Asia and Oceania joined the webinar where they also received a state crop update from USGC Secretary-Treasurer and Indiana corn farmer Joshua Miller. On-the-ground reports like Miller's are valuable to customers making 2021 buying decisions since traditional in-person, U.S. crop tours were not possible in 2020 due to the coronavirus pandemic.
"It was critical this season to engage with customers early and often regarding the 2020 crop," said Manuel Sanchez, USGC regional director for Southeast Asia. "As market dynamics look good for U.S. origin, our team has been actively promoting U.S. corn quality across the region, culminating in this well-attended regional webinar. It is our hope this boost of confidence will translate into sales for farmers and producers."
Next up in the event series will be 14 private, one-on-one virtual meetings in the Latin American region between Jan. 12 and Jan. 22, with one overall general session to be held on Jan. 20. The one-on-one meetings include the largest end-users and importers in the region, while the general session targets the rest of the users in Latin America.
"Instead of having eight in-person general sessions and one-on-one meetings in five different countries, as conducted pre-COVID, we will have only one virtual general session and 14 private meetings, which allows us more personal engagement with our customers, answering specific questions they may have," said Ana Ballesteros, USGC marketing director for Latin America.
"Our customers appreciate having the opportunity to interact privately, and the updated format eliminates potential webinar burnout we can all sometimes feel."
Maintaining constant contact with these buyers and end-users – even with the challenges COVID has wrought – is vitally important to continuing export flows around the world.
"Not only does it show we care about our customers, it emphasizes one of the U.S. export system's greatest value propositions – transparency," Ballesteros said.
Corn quality rollout programs continue this month with a number of events planned in Mexico, North Asia, the Middle East and North Africa and South Asia regions.
The 10th annual corn quality report provides comparable information about the quality of the current U.S. corn crop at harvest as it enters international merchandising channels and will be followed at the end of the first quarter by the 2020/2021 Corn Export Cargo Quality Report, which will measure corn quality at export terminals.
The 2020 growing season's crop was planted slightly ahead of the average pace of the previous five crops, and it experienced generally favorable conditions during the remainder of the growing season. If realized, the expected average yield from this year's crop (11.04 metric tons per hectare or 175.8 bushels per acre) will be the third highest average U.S. corn yield on record.
Read all 10 years of Corn Harvest Quality Reports and Corn Export Cargo Quality Reports.
About The U.S. Grains Council
The U.S. Grains Council develops export markets for U.S. barley, corn, sorghum and related products including distiller's dried grains with solubles (DDGS) and ethanol. With full-time presence in 28 locations, the Council operates programs in more than 50 countries and the European Union. The Council believes exports are vital to global economic development and to U.S. agriculture's profitability. Detailed information about the Council and its programs is online at www.grains.org.