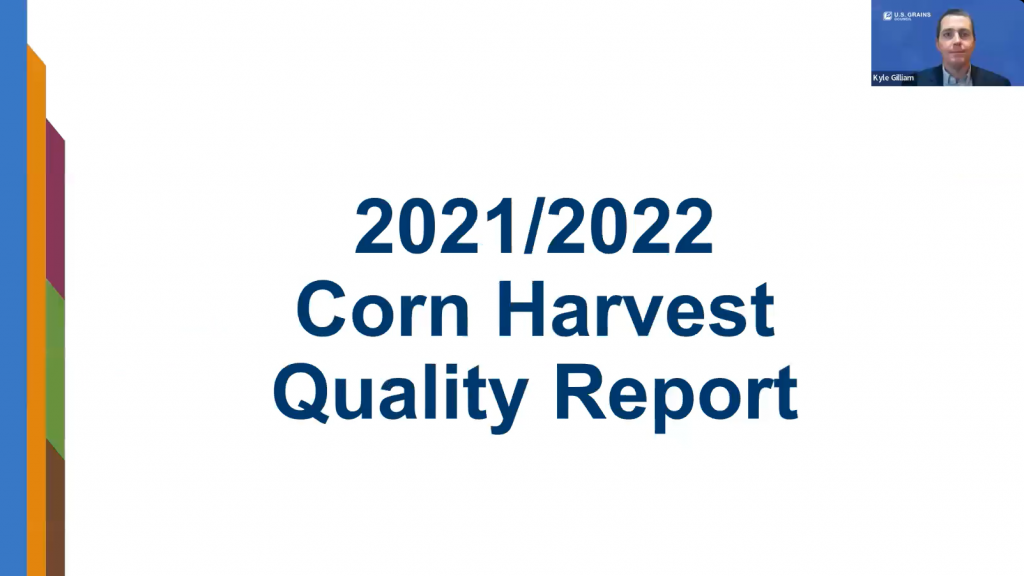 Following its release in early December 2021, the U.S. Grains Council's (USGC's) offices around the world have been busy presenting the findings of the 2021/2022 Corn Harvest Quality Report to buyers and end-users.
Presentations began in the Southeast Asia region before heading north to a combined event for Taiwan, South Korea and Japan.
In Southeast Asia, with the theme of Field Quality to Quality Feed, participants had the opportunity to receive updates on the condition of this year's crop, the current transportation situation and expert advice on feed mill product utilization and storage.
Kale Petersen, a farmer and grain merchandiser in eastern Iowa, as well as a member of the Council's Asia Advisory Team (A-team), provided the group with insight from the field this past growing season before USGC's Manager of Global Strategies and Trade Dr. Kyle Gilliam presented the report.
"This past growing season has had a theme of 'just in time,' meaning that anytime this crop became remotely stressful due to dryness or lack of rain concerns, rain would appear and give us some more time," Petersen said. "The dry start to the season allowed the crop to be planted at an early stage, allowed for adequate heat throughout the growing season and for it to be harvested at a much earlier pace."
Participants also heard from Jay O'Neil of HJ O'Neil Commodity Consulting on current global transportation and logistics challenges and how it will affect transportation modes going forward; Dr. Carlos Campabadal, outreach specialist in feed manufacturing and grain quality management at the International Grains Program Institute (IGP), on corn storage in the tropics; and Dr. Adam C. Fahrenholz from the Prestage Department of Poultry Science at North Carolina State University's College of Agriculture and Life Sciences on feed mill efficiency.
"For our customers, there is no report like this one," said Caleb Wurth, USGC's director in Southeast Asia. "At the Council, we want to be as transparent as possible – not only presenting the good years like we had this year, but also the years where the crop may have experienced challenges – in which case we quantify these challenges and determine risk value."
In North Asia, the Council's Senior Director of Global Programs Cary Sifferath facilitated the rollout event. While most participants joined virtually, nearly 95 from Korea and Taiwan joined the program in-person. USGC President and CEO Ryan LeGrand began the program by welcoming participants from the three nations involved.
"Once again, we have accumulated valuable information to give our customers an understanding of the harvest quality and to build confidence in export markets about the availability and quality of U.S. corn. We also do this to reaffirm our commitment of U.S. corn producers to you, our customers," LeGrand said.
As in Southeast Asia, the North Asian participants heard from Gilliam on the report findings and O'Neil on the status of transportation. Producers from Illinois and North Dakota joined the programming as well. Mark Wilson, a producer in Illinois and the corn sector director on the Council's Board of Directors, discussed his corn production practices before handing it over to Justin Quandt, a producer in North Dakota and member of the Council's Asia A-team, who spoke about his family's operation and crop.
"Events like this, either in-person or virtual, provide valuable information that makes government officials, buyers and end-users confident about what they can expect from U.S. corn," said Tommy Hamamoto, USGC's director in Japan.
"Despite concerns about a drought during the growing season, the quality of the new crop corn has been evaluated to be superior to that of previous years, increasing the likelihood that North Asian buyers will purchase U.S. corn in 2022," said Haksoo Kim, USGC's director in South Korea.
The 2021-2022 Corn Harvest Quality Report sessions will be supplemented by a second report in early spring, the Corn Export Cargo Quality Report, which will measure corn quality at the point of loading for export.
About The U.S. Grains Council
The U.S. Grains Council develops export markets for U.S. barley, corn, sorghum and related products including distiller's dried grains with solubles (DDGS) and ethanol. With full-time presence in 28 locations, the Council operates programs in more than 50 countries and the European Union. The Council believes exports are vital to global economic development and to U.S. agriculture's profitability. Detailed information about the Council and its programs is online at www.grains.org.