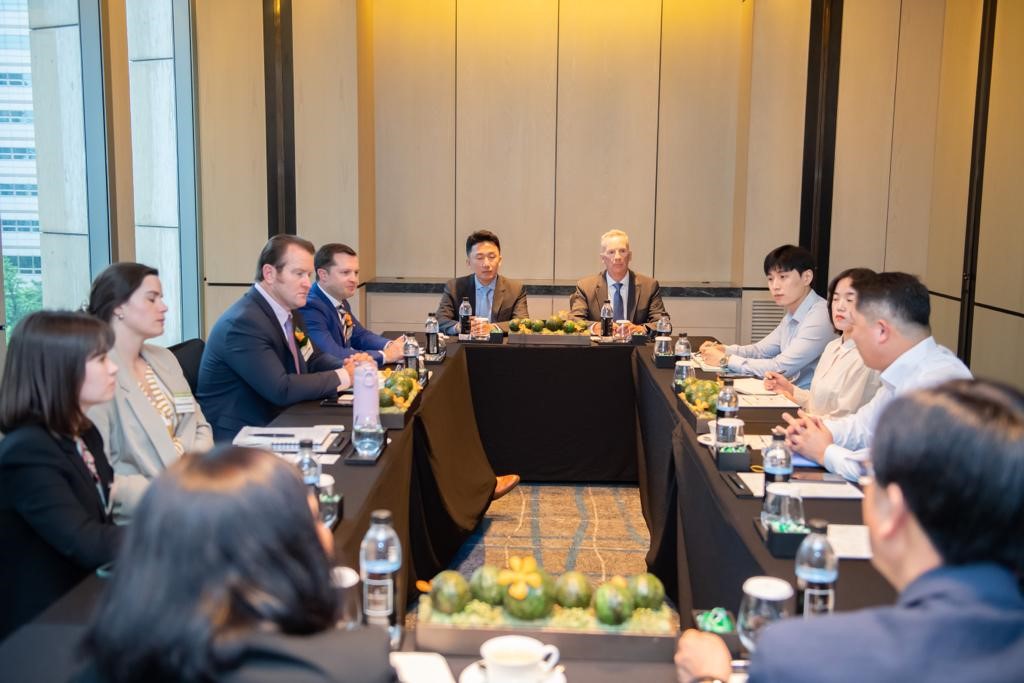 U.S. Grains Council (USGC) leaders, Chairman Josh Miller and President and CEO Ryan LeGrand, traveled to Seoul, South Korea, last week for the 2023 Role of EcoFriendly Fuels in Realizing 2050 Carbon Neutrality symposium. The event was a collaboration between the Council, FAS Seoul, the Korea Automobile Journalists Association (KAJA) and the Korea Biofuels Forum.
The purpose of the symposium was to inform various stakeholders including the Korean government, the petroleum industry and the media about the carbon emission reduction potential of bioethanol and its enhanced effectiveness under a national bioethanol renewable fuel standard (RFS). The symposium also aimed to introduce alcohol-to-jet technology for the production of sustainable aviation fuel (SAF) from bioethanol and provide insights into SAF industry trends.
"We applaud the Korean government for its 2022 announcement to create a Renewable Fuel Standard. This symposium further promotes and actualizes Korea's goal to implement its Renewable Fuel Standard by 2025, joining many other countries around the world in acknowledging and incorporating bioethanol within their country's fuel supply chain," Miller said.
The symposium's key events included individual presentations by subject matter experts on global bioethanol and SAF policies, life cycle analysis (LCA), vehicle compatibility and infrastructure, prospects of the global automotive industry. Additionally, there was a panel discussion between global bioethanol industry experts and domestic policy officials, emphasizing the necessity of introducing a national bioethanol RFS in South Korea.
"The enthusiasm and excitement surrounding bioethanol consumption within Korea was great to see. A multitude of stakeholders from media, government, automotive, retail, import and refinery level organizations were present and there was robust and substantial engagement throughout the event and in follow-on meetings," said Mackenzie Boubin, USGC director of global ethanol export development.
Through this program, the Korean government and related industries recognized the carbon-reduction effect of U.S. corn-based bioethanol and its potential as a promising raw material for SAF. This will contribute to the government's pilot distribution project for a successful automotive RFS introduction and will create an environment that promotes the use of bioethanol for the deployment of alcohol-to-jet technology.
"A significant 480-million-gallon opportunity, the Korean market has been elevated to a tier 1 priority market in 2023 to account for its RFS commitments and on-road bioethanol implementation efforts. USGC will remain engaged on pilot initiatives and best-practice pathways toward nationwide consumption to achieve Korean's decarbonization objectives," Boubin said.
About The U.S. Grains Council
The U.S. Grains Council develops export markets for U.S. barley, corn, sorghum and related products including distiller's dried grains with solubles (DDGS) and ethanol. With full-time presence in 28 locations, the Council operates programs in more than 50 countries and the European Union. The Council believes exports are vital to global economic development and to U.S. agriculture's profitability. Detailed information about the Council and its programs is online at www.grains.org.