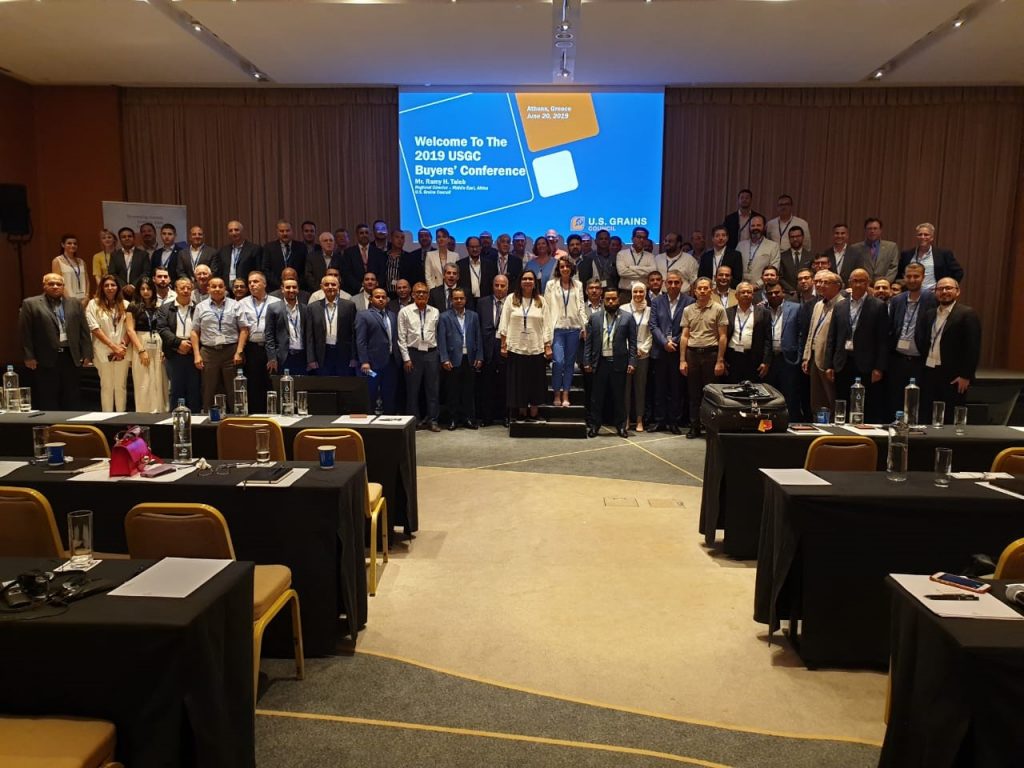 More than 100 of the largest grain and feedstock importers from the Middle East, Africa, Europe and South Asia congregated for a U.S. Grains Council (UGSC) Buyers' Conference in Athens, Greece in June 2019. Attendees reported more than $110 million worth of business conducted over the five-day period in a survey after the event, with volumes topping 540,000 metric tons. Buyers reported contracting 488,500 tons of corn and corn co-products, 45,5000 tons of sorghum and 6,000 tons of barley.
Ten expert speakers and 10 export-capable agribusinesses participated in the program, offering presentations on topics ranging from the economic advantages of importing feed grains to the nutritional benefits of U.S. DDGS and sorghum. As a result, both experienced buyers and newly-targeted companies were able to gain information about the benefit of U.S. origin for their operations.
Attendees also participated in one-on-one consultations on the last day of the conference. Expert nutritional and technical consultants delivered clear, well-researched information and suggestions to end-users, providing the tools necessary to make informed decisions on DDGS and sorghum use in processing feed.
The conference allowed time not only to answer an array of questions, but also for networking between U.S. sellers and overseas buyers. These face-to-face interactions are a critical component of the Council's work to promote U.S. coarse grains and related products.
The Council used Agricultural Trade Promotion (ATP) funds to expand the scope of the program by inviting over 20 participants from South Asia and Africa to the conference. This is the first of what is expected to be a robust buyer engagement using ATP funding in the region.
The Council invested $474,566 Market Access Program (MAP), Foreign Market Development (FMD) and Agricultural Trade Promotion (ATP) funds to execute this conference. The resulting $110 million worth of business conducted yields a return on investment of over $231 per $1 of MAP and FMD funds invested.
About The U.S. Grains Council
The U.S. Grains Council develops export markets for U.S. barley, corn, sorghum and related products including distiller's dried grains with solubles (DDGS) and ethanol. With full-time presence in 28 locations, the Council operates programs in more than 50 countries and the European Union. The Council believes exports are vital to global economic development and to U.S. agriculture's profitability. Detailed information about the Council and its programs is online at www.grains.org.