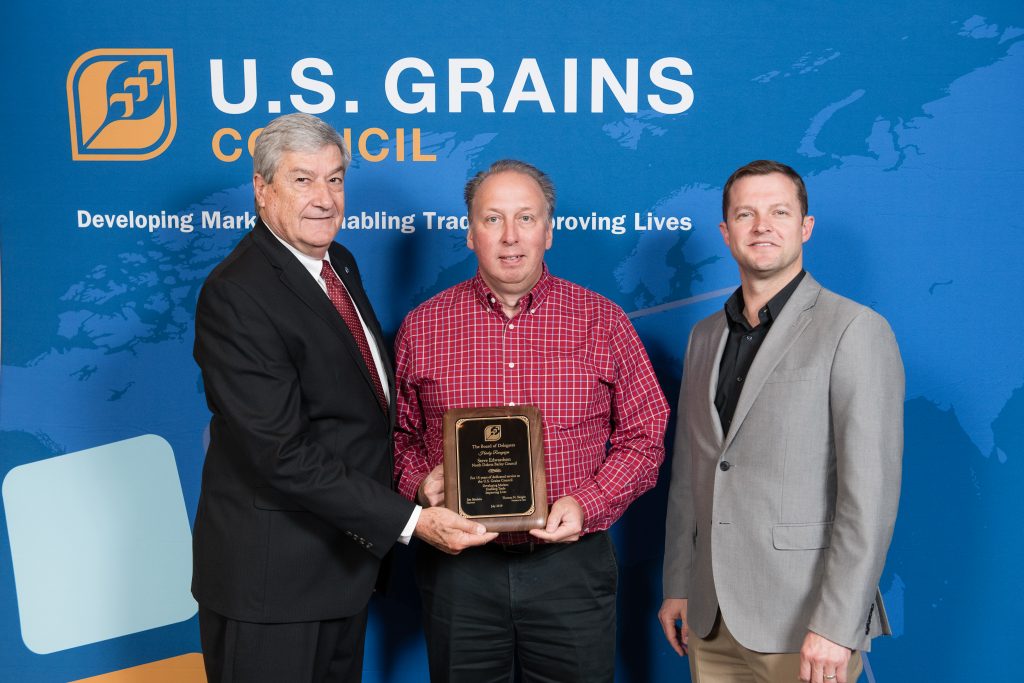 "No barley, no beer" is today's tagline of U.S. barley – signifying the industry's shift from growing feed barley to contracting production specifically for beer production. Steve Edwardson, executive administrator of the North Dakota Barley Council, has worked with the U.S. Grains Council (USGC) on this pivot as barley farmers have grown their overseas customer base over the last 15 years.
Edwardson explained barley use has changed over time from a commodity grain for animal feed to a specialty ingredient for food products and the malting and brewing industry. As a result, the Council's work with the North Dakota Barley Council has shifted to develop educational programs focused on the specific needs of individual buyers, including risk management, price determination, specification development and procurement strategies.
"The Council and its member organizations develop markets, thus providing the framework for the industry to supply product to these markets," Edwardson said. "There is no substitute for this 'on the ground' approach, and the Council executes this philosophy at a very high level."
Edwardson has worked with the Council since he joined the North Dakota Barley Council in 2004, including during the leadership of North Dakotan Jim Broten as USGC chairman in 2009. Edwardson's prior career experience in both the public and private sector has aided joint market development efforts – both as an extension educator for the North Dakota State University Extension Service and as research director and technical sales support person for a specialty crop company with a significant export focus.
The Council recognized Edwardson for 15 years of service at the 59th Annual Board of Delegates Meeting in Cincinnati, Ohio. During his tenure, he has helped coordinate numerous education programs in his state with trade teams from Japan, Taiwan, South Korea and Mexico and served on both the Asia Advisory Team (A-team) and the Membership-Communications A-team.
"My involvement with the Council has been continuous, and I have enjoyed the team effort of commodity organizations, industry and the Council working together to build markets for barley, corn and sorghum," Edwardson said.
Edwardson recalled the significance of attending a World Trade Organization meeting in Hong Kong in December 2005, noting this meeting demonstrated the wide-reaching influence of the Council in developing an understanding of global trade issues and their impact on market development.
He also spoke at the 2012 Export Exchange, expressing his appreciation for this event that brings buyers and sellers together and further demonstrates the Council's work to facilitate trade.
"People do business with people, businesses do not simply do business with other businesses," Edwardson said. "The Council is a critically important link to developing the relationships necessary in the international marketplace to build markets."
About The U.S. Grains Council
The U.S. Grains Council develops export markets for U.S. barley, corn, sorghum and related products including distiller's dried grains with solubles (DDGS) and ethanol. With full-time presence in 28 locations, the Council operates programs in more than 50 countries and the European Union. The Council believes exports are vital to global economic development and to U.S. agriculture's profitability. Detailed information about the Council and its programs is online at www.grains.org.