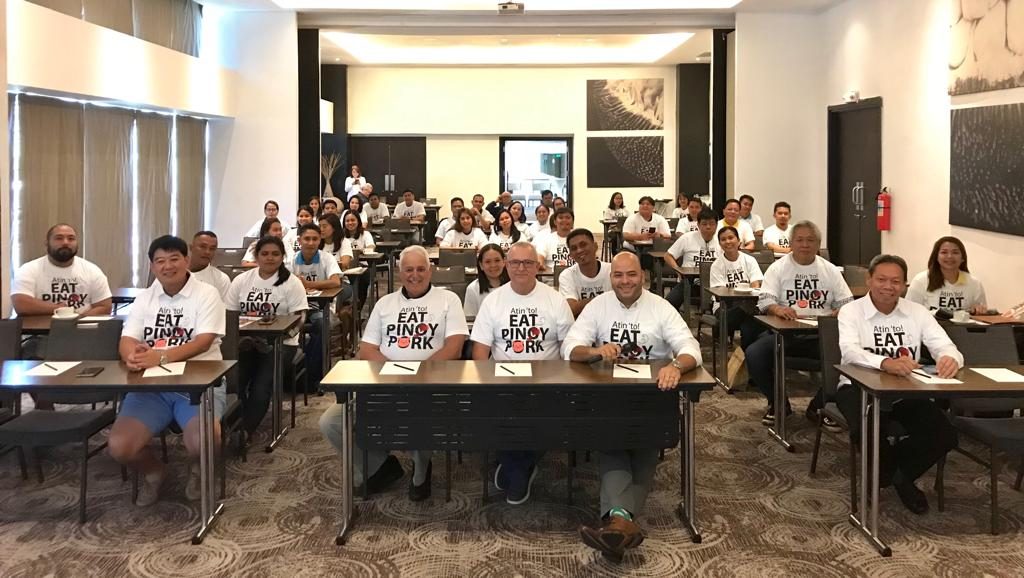 The U.S. Grains Council (USGC) is expanding engagement with the swine and poultry industries in the Philippines, supported by funding from the U.S. Department of Agriculture's (USDA's) Agricultural Trade Promotion (ATP) and Emerging Markets Program (EMP).
"EMP and ATP funding has allowed us to do projects we wished we could do in the past but could not within our normal budget," said Caleb Wurth, USGC assistant director for Southeast Asia. "While the Council has had programs in the Philippines for many years, this market is one area where we felt we could get a large return from a little more investment."
The Philippines has a population of more than 106 million people and a feed market demanding 18 million metric tons and growing. Due to the susceptibility of Philippine crop land to typhoons, the Philippines must import much of its feed inputs. Of this total demand, however, the country imported only 191,000 tons (7.52 million bushels) of U.S. corn and 160,000 tons of dried distiller's grains with solubles (DDGS) in 2017/2018.
Adding new resources to existing support from the Council's membership allows the Council to tackle the barriers currently limiting U.S. market share in the Philippines feed market, including trade policy restrictions, technical barriers and product misconceptions.
Wurth explained that the relatively low inclusion levels of U.S. coarse grains and co-products can be attributed to two main factors. First, the Philippines has a 215,000-ton Minimum Access Volume (MAV) restriction on corn, including a 50 percent tariff on out-of-quota corn. Second, many end-users are not comfortable handling, storing and fully utilizing DDGS. The Council is working to address both of these issues.
The Philippine animal production industry has petitioned for the current out-of-quota tariff to be reduced to zero in acknowledgement of the frequent shortages in local feed supply. The petition was tabled until September for review, but the Council will continue to support this resolution while providing information on other feed options.
"While corn imports are restricted by this tariff, no such import volume restrictions exist for DDGS, sorghum or barley," Wurth said. "Given this opportunity, the USGC Southeast Asia regional office is increasing engagement with specific markets to encourage inclusion of these other coarse grains and co-products."
DDGS is one co-product the Council is working to promote in local DDGS rations, using ATP funding to provide technical information on direct product handling and feed training. A USGC formulation workshop in Davao in August 2019, attended by 25 swine farmers, feed millers and technical advisors, focused on utilization of DDGS in swine rations considering the local available inputs. A second workshop in General Santos targeted the poultry industry.
Similarly, the Philippines is also a potential growth market for U.S. sorghum farmers. Funding from EMP and the Market Access Program (MAP) supported a trade team in August that brought Philippine and Myanmar importers and feed manufacturers to Kansas and Texas. The group witnessed the full sorghum supply chain from farm to export, including the production of sorghum DDGS. The team explored compound feed, aqua, specialty feed/pet food and human food opportunities. Along the way, the group met with U.S. exporters, linking what they experienced to deliverable trading opportunities.
The Philippine market currently uses sorghum in small quantities for specialty bird feeds. This specialty market requires sorghum because of its red color, but the market sources primarily from Australia due to a misconception that U.S. sorghum contains high levels of tannins.
"Throughout the trade mission, the team gained exposure to the crop and spoke to experts, ultimately eliminating this fear," Wurth said. "Lectures, demonstrations and field visits increased the awareness of the diverse products that can be achieved through the use of U.S. sorghum."
These efforts are continuing, even as the recent confirmation of African Swine Fever (ASF) virus in the Philippines has made some farmers fearful, as 65 percent of the hog industry is made up of small-holder farms most susceptible to the virus. The Council plans to continue support of the animal feed industry in the Philippines – as it did in Vietnam – as local farmers and the government work out how best to tackle this devastating virus and shift their operational strategies.
"The Council plans not to withdraw, but enhance our programming during this time," Wurth said. "As the feed industry shifts and recalibrates, the Council will be there to ensure our products become integrated into the fabric of the new feed industry."
The Council plans to continue building these partnerships with the current and incoming generation of feed millers and food processors, leading to an evolution in feeding programs with a preference for U.S. coarse grains and co-products. Increased engagement with these burgeoning industry leaders will help turn the Philippines from a growing market to a significant perennial buyer for years to come.
About The U.S. Grains Council
The U.S. Grains Council develops export markets for U.S. barley, corn, sorghum and related products including distiller's dried grains with solubles (DDGS) and ethanol. With full-time presence in 28 locations, the Council operates programs in more than 50 countries and the European Union. The Council believes exports are vital to global economic development and to U.S. agriculture's profitability. Detailed information about the Council and its programs is online at www.grains.org.