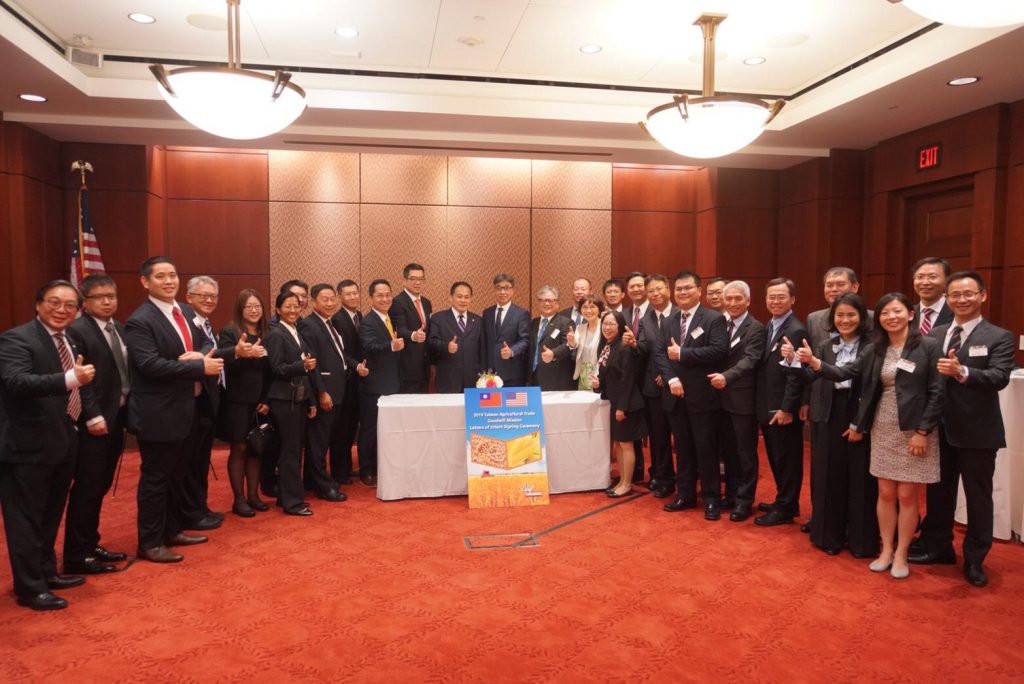 Taiwanese feed industry leaders pledged on Wednesday to purchase 5 million metric tons (197 million bushels) of U.S. corn and 500,000 tons of U.S. distiller's dried grains with solubles (DDGS) within the next two years as part of the Taiwan Agricultural Goodwill Mission. This commitment comes as part of more than four decades of collaboration between the Taiwanese market and the U.S. Grains Council (USGC).
"The Council has a long history in Taiwan with 45 years of engagement and has worked in virtually every area of policy, trade, demand building and marketing," said Michael Lu, USGC director in Taiwan. "Taiwanese customers value the Council's work to provide timely market information on the production, supply, demand, quality, grading, inspection, shipment and applications of U.S. corn, grain sorghum, barley and their co-products."
The Goodwill Mission, organized every other year since 1998 by the Taiwan Economic and Cultural Representative Office (TECRO), is part of that effort to help Taiwanese feed industry leaders gain greater familiarity with the U.S. grain value chain and its advantages.
In addition to the signing ceremony at the U.S. Capitol and meetings in Washington, D.C., mission members are now visiting Illinois, Indiana, Mississippi and Nebraska. Team members will tour farms and elevators, meet with local producers, agricultural groups and policymakers and sign additional purchasing memoranda in each state.
Taiwan continues to be a loyal buyer of U.S. corn and co-products, importing nearly all of local feed demand, primarily for swine and poultry. Taiwan is the eighth largest market for U.S. agricultural products, led by U.S. grains, with a total value of $4.3 billion dollars in 2018.
According to the U.S. Department of Agriculture's Foreign Agricultural Service (USDA's FAS), Taiwan purchased 3.21 million metric tons (126 million bushels) of U.S. corn at a value of $593 million in 2018. Of all corn imports, U.S. had a 76 percent market share.
Efforts like the Goodwill Mission help maintain and extend that demand, as well as work locally with stakeholders like nutritionists who are working formulate better livestock diets using U.S. DDGS.
"The long-term strategy for the Council in Taiwan is to sustain relationships with policymakers and industry leaders to regain and preserve U.S. market share," Lu said. "The Council is also working to ensure maximum efficiency of domestic meat, milk and egg production, instill confidence in the merits of food security through trade, promote increased inclusion rates for U.S. DDGS and help establish supportive policy for the use of imported fuel ethanol."
About The U.S. Grains Council
The U.S. Grains Council develops export markets for U.S. barley, corn, sorghum and related products including distiller's dried grains with solubles (DDGS) and ethanol. With full-time presence in 28 locations, the Council operates programs in more than 50 countries and the European Union. The Council believes exports are vital to global economic development and to U.S. agriculture's profitability. Detailed information about the Council and its programs is online at www.grains.org.