For the first time since the onset of the COVID-19 pandemic, the U.S. Grains Council (USGC), together with the U.S. Soybean Export Council (USSEC), held their annual Southeast Asia U.S. Agricultural Co-operators Conference (ACC) in person, in Bangkok, Sept. 20-22.
This premier regional event brought together key industry representatives, trade and agricultural association leaders, regional government officials, U.S. agricultural co-operators and related U.S. government agencies, U.S. corn and soybean grower leaders, U.S. corn and soybean members and stakeholders to receive critical market updates, learn about new product offerings and regional policy changes; in addition to reconnecting with trading partners not seen for two years.
With more than 300 in-person attendees, ACC exceeded participation expectations.
"Customers in Southeast Asia were eager to meet with us in person again, due, in part, because we had a lot to say. Over the last two years, we have overseen major market developments including the influx of higher protein meals derived from corn, phytosanitary resolutions in Thailand and corn tariff reductions in the Philippines to name a few," said Caleb Wurth, USGC regional director for Southeast Asia and Oceania.
U.S. corn and soybean growers provided their on-the-ground perspectives of the 2022 crop.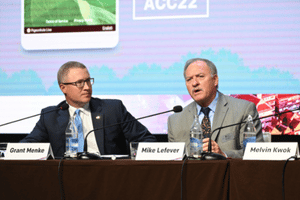 Grant Menke, director of market development at Iowa Corn, and Mike Lefever, director at-large for the Colorado Corn Administrative Committee, shared their progress this growing season and provided information about their operations for international customers in addition to taking part in a panel discussion.
"The Thailand trade mission made it abundantly clear that while the U.S. Grains Council has top notch programs, projects and partnerships, the organization's greatest asset is by far its people. The global staff are the boots on the ground, working strategically and creatively, day-in and day-out, to grow export demand for U.S. corn in all forms. Iowa Corn is proud to utilize check-off dollars to invest in these incredible people and their impactful work in important markets around the world," Menke said.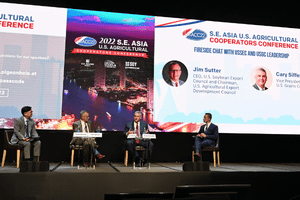 USGC Vice President Cary Sifferath also took part in the event, joining USSEC CEO Jim Sutter for a "fireside chat" about the work of each organization around the world.
"Southeast Asia is a growing and dynamic region for corn, corn co-products and grains in all forms. While there are similarities among the countries and markets in the Southeast Asia region, each market also has its own needs and requirements. It was great to be on the ground and in person to meet so many of our key customers from all the markets in the Southeast Asia region," Sifferath said. "Simultaneously, we had USGC staff in a different location in Bangkok at the Sugar & Ethanol Asia conference addressing our ethanol market development issues in the Southeast Asia region. We were able to cover nearly all the growing markets for grains in all forms in the region in the same week in Bangkok."
Following the program, the Council distributed a market survey to gather information about perception of this event. Exit surveys are critical to ensure the Council remains relevant to its stakeholders. These surveys also allow the Council to quantify the high volume of trades that occur during this cornerstone conference.
"If buyers and sellers come to terms on the sale of U.S. commodities during this event, we did our job right. Price discovery is about information and relationships. Our aim is to merge these factors not only over the course of a few days, but continuously throughout the year," Wurth said.
About The U.S. Grains Council
The U.S. Grains Council develops export markets for U.S. barley, corn, sorghum and related products including distiller's dried grains with solubles (DDGS) and ethanol. With full-time presence in 28 locations, the Council operates programs in more than 50 countries and the European Union. The Council believes exports are vital to global economic development and to U.S. agriculture's profitability. Detailed information about the Council and its programs is online at www.grains.org.