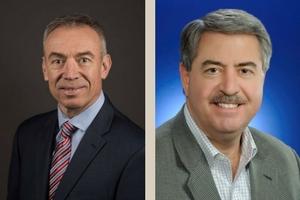 The U.S. Department of Agriculture (USDA) is gaining two new leaders – and agriculture trade is gaining two new advocates – with the confirmations this week of Steve Censky as deputy secretary and Ted McKinney as the newly-created undersecretary for trade and foreign agricultural affairs.
The U.S. Senate confirmed both the non-controversial nominees late Tuesday evening Washington time.
Censky has been the chief executive officer of the American Soybean Association since 1996, during which time the industry has grown exponentially driven by expanded exports.
McKinney has been the agriculture secretary for Indiana and previously was an agriculture industry executive working closely with farm organizations including the U.S. Grains Council. His new position was mandated in the 2014 Farm Bill to promote better coordination between the agencies within USDA that touch trade and elevate the importance of trade within the U.S. government's activities.
Together, the two join a Department deep in renegotiations of key trade agreements and leading a charge for more robust trade policy to benefit farmers.
Secretary Sonny Perdue himself is an outspoken and forceful advocate for agriculture trade, calling it "noble" in his announcement of the undersecretary position's creation.
"I'm a grow-it-and-sell-it kind of guy," he said then, adding, "Our people in American agriculture have shown they can grow it, and we're here to sell it in markets all around the world."
In recent days, Perdue has said that his focus is on trade negotiations ongoing with NAFTA partners and Korea, trade enforcements and market development efforts.
Agricultural trade supported by strong trade policy and market development underpins the ongoing profitability of U.S. farmers and growth in the U.S. agricultural value chain. USDA data show that ag and food exports account for 20 percent of the value of total production and support 8,000 jobs for every $1 billion in sales.
In the last marketing year, the United States sold approximately $9.5 billion in corn alone, along with $2.3 billion in distiller's dried grains with solubles (DDGS) and $1.8 billion in ethanol. Additionally, the United States exported $1.8 billion in sorghum and $43.6 million in barley.
As a cooperator organization receiving funds from the Market Access Program (MAP) and the Foreign Market Development (FMD) programs administered by USDA, the Council is the industry's market development organization for corn, sorghum, barley and related products including DDGS and ethanol. The Council uses these funds to support a global presence of offices and staff running programs in 50 countries.
More about the Council's work is available at www.grains.org. More about USDA's work in trade is at https://www.usda.gov/topics/trade.
About the U.S. Grains Council
The U.S. Grains Council develops export markets for U.S. barley, corn, sorghum and related products including distiller's dried grains with solubles (DDGS) and ethanol. With full-time presence in 13 key markets and representatives in an additional 15 locations, the Council operates programs in more than 50 countries and the European Union. The Council believes exports are vital to global economic development and to U.S. agriculture's profitability. Detailed information about the Council and its programs is online at www.grains.org.